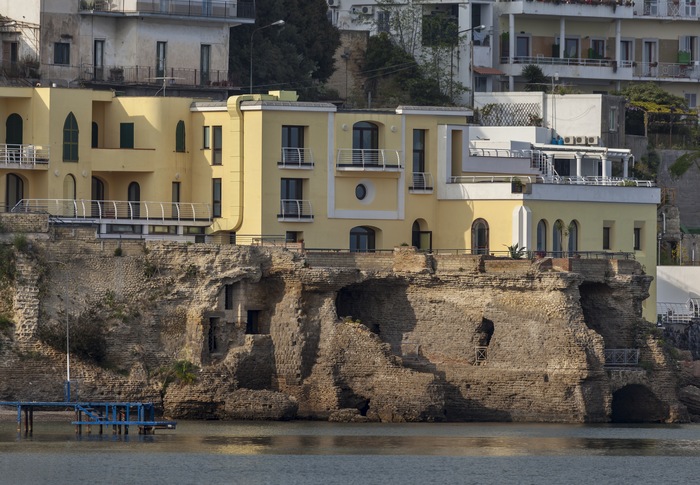 The Roman Empire may have ended centuries ago… but off Italy's western coast, you can find remnants of its enchanting history above and below the surface.
And unlike Atlantis, the sunken city of Baiae is easy to explore.
Read on to learn more about this vestige of Roman history—and how it provides the foundation for today's Italian towns and boating adventures.
A getaway fit for royalty
You've heard of Rome and Pompeii—but when it came to coastal getaways for the richest, most notable Romans, Baiae reigned supreme.
Built on a volcanic patch of coastline, Baiae was famous for its mineral springs and baths—not the tub kind, but the social spa-like experience the Romans were well-known for. It was a prime spot for pleasure seekers who wanted to indulge in the area's natural beauty and, supposedly, healing waters.
Over the course of its existence, the destination was visited by the likes of Nero, Julius Caesar, Horace, Pliny, and more. The opulent resort town also attracted its share of scandal, much like we might view a city such as Las Vegas today. At one point, noted philosopher Seneca the Younger even dubbed it a "harbor of vice." As a stomping ground for Roman elite, Baiae was the natural backdrop to many bizarre antics—like those of future emperor Caligula, who ordered the construction of a 3-mile long pontoon bridge for him to ride horseback across the Gulf of Baiae. The reason? An astrologer predicted that the chances of him becoming emperor were as dismal as those of him completing the stunt—like a classical version of the famous "when pigs fly…".
The end of an era
Of course, all good things must come to an end. Barbaric invasions led to the sacking of the once-thriving resort getaway. In its abandonment and disrepair, the coast fell victim to volcanic activity and was gradually dropped into the ocean, leaving behind ruins and tenuous glimpses into its storied past.
Of course, unlike many "lost city" legends, Baiae did not disappear without a trace. Modern buildings in the area, for example, sit atop the rocky foundation that Baiae left behind. Statues like the Aphrodite of Baiae have appeared there, and today there are glass-bottom boats that you can take out to see the rest of the city ruins: ethereal structures that sit in the depths offshore.
Boating in Baiae today
Looking for an on-the-water way to enjoy the modern side of Baiae, and its coastal neighbors? You can't go wrong with the Gulf of Pozzuoli, the smaller offshoot of the Gulf of Naples where you can find beautiful ocean vistas and waterfront restaurants where you can indulge in authentic Italian fare. Head a little bit inland and enjoy a hike or picnic on the shores of Lago d'Averno, or Lake Avernus, a volcanic crater lake surrounded by lush, rustic Italian countryside.
For a getaway that makes the most of your thirst for adventure and knack for classical history, Baiae is your ticket! Nearby Chaparral connection Autosaloneitalia Srl will provide you with all you need to explore cruising adventures in Baiae, Naples, and other choice destinations.