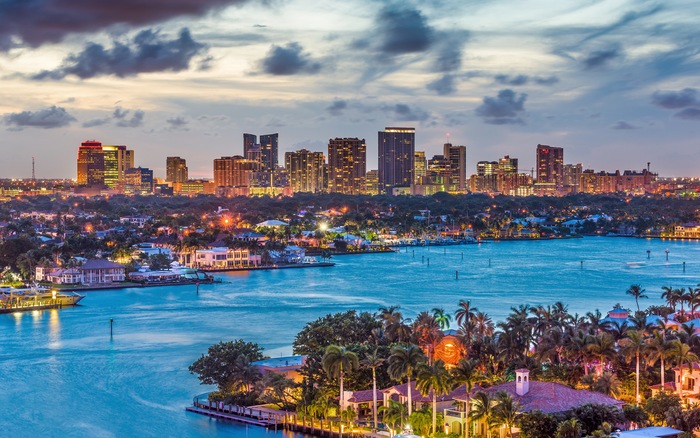 They didn't nickname Fort Lauderdale the "Venice of America" for nothing.
The city's sprawling waterway, a gem of South Florida's boating scene, winds alongside the ocean and offers a close, intimate way to see the aquatic landscape—one that's best known for its lush oceanfront flora and timeless, Mediterranean facades.
The canal offers boaters a chance to enjoy their share of leisurely cruises—the kind where you aren't really trying to get anywhere in particular—as well as easy transport between some of the city's most beloved on-the-water hotspots. Read on as we explore this one-of-a-kind waterway, a treat to enjoy this fall and beyond.
A sense of prestige…
There are few places like Fort Lauderdale, where casual, no-fuss days on the water blend beautifully with the high-end look of Mediterranean mansions along the coast. Seeing the renowned architectural gems (decked out in rich hues and lush surroundings) is an effortless part of cruising the waterway—a reminder of the special sort of laidback luxury that a Fort Lauderdale adventure affords.
… and adventure, too
Of course, it's not all "ooh"-ing and "ah"-ing at gorgeous celebrity homes. One of the best parts of cruising the Intracoastal for adventure-minded boaters is, of course, hitting the water by board or a pair of skis and having some fun!
While the long, meandering nature of the canal system offers plenty of room for easy, uninterrupted runs, many water sports lovers flock to quieter stretches (such as Lake Sylvia, a choice anchorage spot) to get in their kicks. Paddle boarding and enjoying other sports on the Stranahan River is another top way to craft your canal cruise.
Grab a bite
Don't forget to fuel up along the way—your boat and, well, your appetite too! The Intracoastal offers an abundance of on-the-water eateries with easy boat-up "parking," so you can grab a bite with ease whenever hunger strikes (which is likely right after you catch that first whiff of fresh-grilled seafood or burgers wafting in with the sea breeze…). One popular spot is Shooters Waterfront, where you can really lean into the breezy Fort Lauderdale feel and enjoy some delicious seafood bites, too. Anywhere on Riverwalk, the on-the-water shopping and dining destination, is worth stopping by for a snack or delicious dinner.
Kick back
When you're ready to unwind, find the Intracoastal sandbar, located at the New River portion of the waterway. Here, on a nice, sunny day, you will likely find other boaters doing the same thing you want to do—soaking up the sun, enjoying the shallow water, digging into easy on-the-water snacks and listening to some choice cruising music (think island tunes, calypso and "yacht rock" for your perfect playlist). The sandbar is a great place to be when you want to unwind—a real hidden gem for those who've solely stuck to the north end of the Intracoastal before!
Get to know canal culture
As you cruise the water, take some time to really get to know the canal culture that pervades here. You can feel it in the air—a friendliness among boaters of every sort, from small, personal vessels to real mega-yachts and everywhere in between. Waving to those you pass by on the water is a common way to spread the good cheer. Just be sure to practice good boating courtesy when passing, docking and launching, as you would anywhere, and you'll be good to go!
Why we love it
We love the Intracoastal any day, all year-round—but it takes on a special quality during the fall, when clear skies and crisp weather provide for an especially breezy, relaxing experience. There's nothing like the fall to remind us why we love the Sunshine State, after all, and we can't think of a better place to dive into the South Florida boating culture than right here.
Will you be in town for the Fort Lauderdale International Boat Show? Be sure to carve out some time on the Intracoastal—many a great on-the-water adventure has begun here, and you never quite know what you'll find as you meander along the shore!