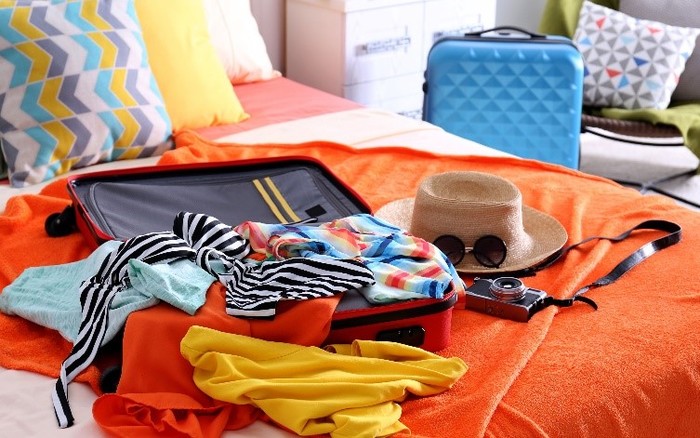 Everyone knows fall style is all about boots, scarves and cozy wool coats—unless, of course, you're taking a trip to Florida.
Here, a sense of endless summer pervades the sunny atmosphere. Nighttime and the occasional cold front offer glimpses at a cooler season, but days are still long and pleasant and perfect for outdoor adventures—especially those enjoyed by water.
Read on as we share a few of our top head-to-toe tips for dressing the part this fall.
Opt for versatile pieces
One of the best parts of traveling down to Florida, if you're not from the area, is that you don't really need heavy pieces (from coats to boots) that take up a lot of room in your luggage. So continue to save some space for souvenirs by opting for versatile pieces that let you travel light—think one pair of shorts that pairs well with a few different tops, or a button-down, Hawaiian floral-style shirt that can be dressed up (with nice shoes and slacks) or down, with shorts and flip-flops, for a more casual day on the water. (You'll be having lots of those!)
When it comes to choosing texture, you can't go wrong with knit pieces—the closer the knit, the better sun protection, plus you don't need to worry about wrinkles along the way. And of course, don't forget a hat—perhaps one of your most crucial pieces of clothing, it can go with everything and keep you cool and shades from the sun!
Bring along layered staples
Like we mentioned earlier, Florida, even in the fall, is generally warm—so you won't be reaching for mittens and earmuffs anytime soon! However, when you spend lots of time on the water, you may end up being out longer than you planned, and the nighttime can get a little brisk on chillier days. Make your on-the-water dinner, leisurely cruise or waterfront stroll that much more comfortable by bringing along basic layers, such as a trusty sweater or light jacket, so that you're never caught off guard by the sudden (and sweet!) Florida breeze.
Hands-free fashion
When you travel to Florida, especially for on-the-water fun, you'll want to keep your hands free for the fun activities ahead. When choosing a day bag, opt for a backpack that keeps your hands up-front, ready to help with everything from tying up your boat to enjoying delicious, handheld dishes by the water.
Nail down the Florida "look"
Once you've nailed down the basics, you're free to get colorful with your clothing picks. Opt for pieces that convey that classic Florida feel—linen pants, floral prints, straw hats, the works. Once you swing into the vacation style, the laidback mindset will be quick to follow!
Flip-flops or boat shoes?
We promised a head-to-toe guide, after all! For shoes, you can't go wrong with packing two (and, probably, only two) simple footwear mainstays: flip-flops and boat shoes. The former is perfect for trips to the beach, pool or waiting your turn to waterski. The latter is ideal for dressing up your look on nice nights out, or strolling around the boat show floor; it also provides a sturdy grip for castling a line when you want to go angling.
Ready to put your Florida fashion sense to the test? Slip into your shades and flip-flops and enjoy a day of cruising, sunbathing or browsing the boat show—the big one, Fort Lauderdale International, kicks off on Halloween! We can't wait to see you there.