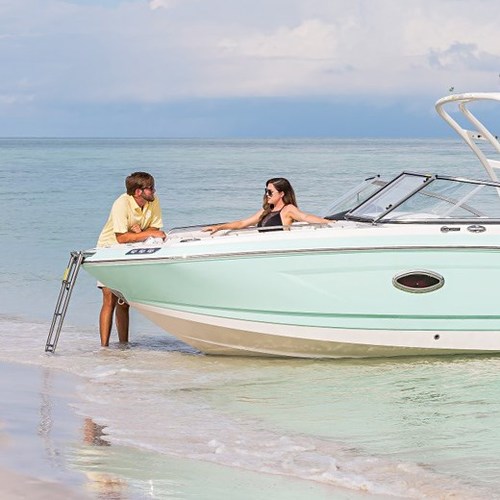 The summer solstice on June 21st will be the longest day of the year… if only by a couple minutes!
But still, the sun-soaked occasion has us thinking: What are some of the best ways to enjoy the sunshine?
A few tips—some practical, some purely for fun—might offer a solution. Read on as we share our top ten tips for boating during the summer solstice, and every sunny day that follows.
For the solstice…
Try a northern vacation. Want to get more out of the summer solstice? Day and nighttime are more or less equal to the equator… but as you travel north toward the Arctic Circle, days get unbelievably long. In fact, go far enough up in Alaska, and the day never ends! If you've been thinking about a far-north boating getaway, this might be the time to do it.
Catch a green flash. If you've ever tried to watch a beautiful sunset—only to miss it within minutes—the summer solstice might give you just enough time to catch it. Head to the beach and look for the elusive "green flash," the bright pop of green that sometimes occurs the moment the sun dips below the horizon. At the very least, it'll make this summer solstice a memorable one!
Take a coast-to-coast trip. The extra bit of daylight makes it easier to accomplish all-day adventures—such a coast-to-coast trip! Spots like South Florida are perfect for this, since you can catch the sunrise on the east coast, have some fun in the water, and ride over to the west coast to catch the sunset with plenty of time to spare.
For cooling down on sunny days…
Ice, ice, ice. As a boater, there are some things you can never have enough of. Maybe for you, it's the right tackle or a bunch of soft towels for long days on the water. Add ice to your list of must-haves on sunny days! Not only does it keep drinks cool, but it can help cool you down as you kick back, sunbathe or do some on-deck reading. Toss a bottle of sunscreen next to your ice cubes to cool it down and make re-application even more refreshing!
Toss on a lightweight tee… It may seem counterintuitive, but a long-sleeve, lightweight shirt can help you keep your cool on bright and sunny days—since your skin isn't quite as exposed to the rays from above. Pick up a comfy option at the Chaparral online shop!
… and a cap while you're at it. Another outfit must-have is the hat of your choice—a classic baseball cap, or a wide-brimmed hat for even more coverage from the sun. Since your head is the first part of your body to come in contact with the sun, it's an essential you'll love having around.
Indulge in cool, sweet snacks. The food you eat can help you cool down, too! Opt for fresh snacks that are high in water contact, like watermelon chunks or cucumber slices.
Stick with sunscreen. As always, be sure to lather on the sunscreen regularly while you're out in the sun! It helps cool you down in the moment and prevents you from getting a sunburn that'll heat you up later on.
For seeing past the sun…
Pick up a pair of polarized glasses. Whether you're fishing, surfing or simply cruising the day away, polarized glasses can't be beaten. They help to eliminate sun glare, letting you see your surroundings (and unique details below the surface) much more clearly.
Boat away from the sun. It may seem obvious, but boating or boarding away from the sun when possible can help you see what's ahead of little better. Switch things up as the sun moves throughout the day for a cool, easy ride.
What are your favorite ways to soak up the sun? Be sure to let us know below!