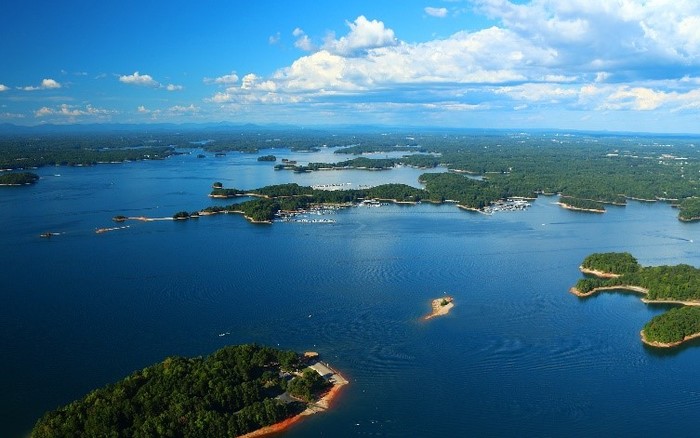 What if everyone across the country could be a surfer?
The Beach Boys played with that idea in "Surfin' USA," the famous summer song that crooned, "if everybody had an ocean across the USA, then everybody'd be surfin' like Californi-a…"
It might have seemed like a fantasy, but their dream of a cross-country surfing craze was not very far off. Today, you can enjoy the thrill of riding the wave—and the undeniable style that goes with it—no matter where you live, even if it's square in the middle of a landlocked state. Wakesurfing lets it happen.
To help get everyone from coast to coast behind a great wake, we've compiled a list of some of our favorite wakesurfing destinations. There might even be one that's closer to you than you think! Take a look.
Lake Elsinore, CA
Why start with a Southern California spot? Well, for a surfer to choose to ride inland when classic surfing destinations like Huntington Beach are so close by, you know it's got to be a pretty good lake. Lake Elsinore is just that—and more.
Nestled in the Santa Ana Mountains, Lake Elsinore offers beautiful views as a backdrop to your wakesurfing adventure. It's the largest freshwater lake in SoCal, too, and its impressive surface area—more than 3,000 square acres—makes way for many wakesurfers to come out and enjoy the experience. For this sport in particular, Lake Elsinore excels thanks to its unique, rectangular shape. A long, wide center means that the much-coveted "never-ending wave" is completely within your reach—there aren't many curves and corners to navigate about, leaving the possibilities of your day on the water completely in your grasp.
Nearby, in Norco County, Tilly's Marine is your go-to connection for all things Chaparral—and exploring the Southern California region with ease. As Lake Elsinore proves, there's more than just the ocean to satisfy those with a thirst for serious swell action.
Lake Winnipesaukee, NH
We're hopping coasts now, to the New England gem of Winnipesaukee, New Hampshire. It doesn't get much more "East Coast" than right here—but somehow, action on the water dominates still… and it's not all about sailing.
Wakesurfing and other water sports are popular on this woodsy retreat of a lake, believed to be named after the regional word for "beautiful water in a high place." That about sums up Winnipesaukee pretty well. The lake is surrounded by rolling mountain views in the background, tree-lined shores in the fore, and a smattering of islands you can cruise around for an intriguing twist to your trip.
Of course, when the main event is wakesurfing, large central channels offer plenty of room to do just that. The fast-paced sport is somewhat of a newcomer to Winnipesaukee—which many know and love as an ice fishing destination, come winter—but that's part of what makes the experience so intriguing. Wakesurfing here feels new, fresh and exciting—as it always should be! –and at such a large lake, with so many channels and coves to explore, you'll never get tired of rediscovering the thrill. Don't forget to swing by Chaparral dealer Shep Brown's Boat Basin, located in the historic lakefront town of Meredith. Shep Brown plays a role in that history, of course, after having been a part of the region for nearly 100 years!
Brainerd Lakes, MN
Every boater loves coming across a good chain of lakes. It simply means more destinations to cruise… and for wakesurfers, more glassy water to explore, more room with which you can craft a stellar wake.
Minnesota's Brainerd Lakes offer exactly that. Though this Midwestern state is certainly one of the country's coldest, it comes alive in the summertime, when locals and visitors alike flock to its beautiful aquatic destinations for some serious on-the-water action—even though they're about as far from the ocean as you can get!
In Brainerd, that might mean a day of hopping from fishing on Pelican Lake, grabbing lunch at North Long Lake then settling into a wakesurfing groove on Gull Lake—the largest of Brainerd's offerings, and a bona fide water sports paradise. Gorgeous, rich blue water is some of the area's finest, and close-to-shore comforts like kayaking make way for serious wake action in the central and upper portions of the lake.
The Brainerd Lakes are especially great for those who take their wakesurfing with a bit of local charm and culture; here, it comes by way of the legendary giant Paul Bunyan (whose giant footsteps are said to have made some of Minnesota's most famous lakes), as well as the local histories of lakefront cities along the way. One such destination is Nisswa, where you'll find a friendly face at Nisswa Marine, your area Chaparral connection.
Of course, here in Minnesota, you'll never really run out of new lakes to explore. The state's nickname, "Land of 10,000 Lakes," might even be a bit of a misnomer—there are actually closer to 12,000!
Lake LBJ, TX
From waterfalls to scenic byways to wildflower-spotted fields, Texas' Hill Country offers up some seriously great views—not the least of which is Lake LBJ.
Named for President Lyndon B. Johnson, this Central Texas lake is a wide, winding spot along the Colorado River, the boater's scenic route counterpart to Route 66. On LBJ you'll find warm water and ample surface area to test out tricks and turns—but if you crave a more secluded experience, its coves, and crannies, of which there are plenty, offer just that. The lake's unique shape also affords a chance to surf up the Colorado River at its passage points. For any wakesurfer, the chance to enjoy those long, uninterrupted runs is a must-do. Then, when you're on to the next destination, it's just a quick drive—or cruise—to other river hotspots, from Buchanan Lake in the west to Lake Travis in the east, to name a few.
On Texas lakes like LBJ, boaters and wakesurfers turn to on-the-water cowboys. Experience the fun for yourself, soon, and be sure to stop by Ski Dock in nearby Austin to help you do it all with ease… and some fun, too!
Lake Lanier, GA
Southern boaters ought to know about this top spot, a Georgia destination located outside of Atlanta. Of course, Lake Lanier's proximity to the big city fades from view when you discover its delightfully out-of-the-way feel, a serene sense of nature that parallels the alluring island escapes (and sparkling blue water) of the Caribbean itself.
You can't tire of wakesurfing here—simply because there's so much to explore, and so many new places to discover along the way. The main channel, of course, offers some of the best room to enjoy long, uninterrupted runs, but all the while you're surrounded by islands—some big, some small—and twisting lake offshoots that offer an intriguing experience. Enjoy a picnic on a sandy shoreline before getting back out on the water and testing out those new tricks again and again.
In addition to beautiful back-to-nature vistas, there are also thriving on-the-water resort landings to add a sense of fun and community to the Lake Lanier experience.
As you explore more of Georgia's lively aquatic landscape, be sure to make a stop in Leesburg, where you'll find Boater's World Marine Center—a Chaparral dealer and your go-to source for exploring the Peach State in style and comfort.
Wherever you may be, wake-surfin' USA is an idea—a lifestyle—you can get behind. These are just a few of our favorite spots, but the nation abounds with equally alluring lakes, bays and river hideaways worth exploring. Just seek them out and see where the wake takes you.