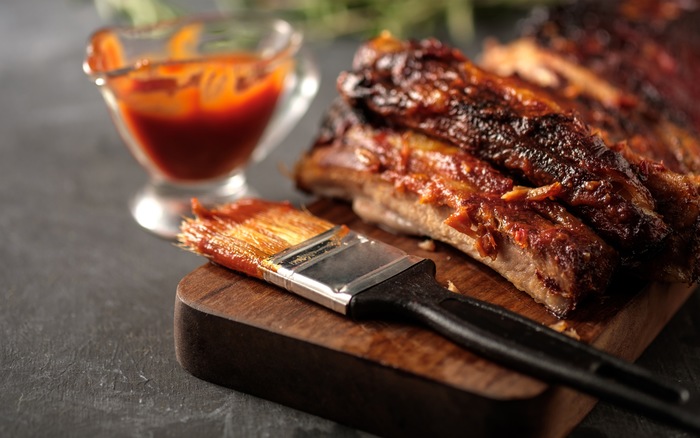 Ah, summertime. As the weather warms up, we celebrate the return to boating, boarding, and—of course—barbecuing!
May marks National Barbecue Month, and we think the long, sunny days ahead call for some delicious al fresco dining with friends. Read on as we share our top ten tips for throwing the ultimate boat-and-barbecue day from your Chaparral.
Find the perfect barbecue spot
Where will you host your barbecue? If you have a grill on board, you can simply raft up with friends and choose a shady cove or beach-front spot to dig in—however, even if you don't, there are plenty of options to consider! Search around your preferred locale for parks with grill access and picnic tables, so you can enjoy your cookout without ever being far from the water. Many marinas will also offer grills as an added amenity, so be sure to check in here, too.
Spruce up your space
If you are hosting your barbecue on board (or returning to your Chaparral to eat after everything's cooked up), spruce up your space with classic touches like tablecloths or picnic blankets. You can even add battery-powered lanterns to your space if the cookout lasts long beyond the afternoon sunshine—and with all that good food and even better company, it definitely might!
Add some ambiance
On your boat's speaker system, you can play hand-picked tunes for the occasion—summer hits, throwbacks to the eighties, and "yacht rock" cruising-friendly tunes are all fun options to consider.
Prepare food ahead of time
To simplify your barbecue, opt for menu items that give you more time to eat and relax—and less to clean up! By preparing everything ahead of time, such as any rubs or marinades, pre-mixed salads, etc., all you will need to do is toss food on the grill and enjoy. A few of our favorite dishes to make ahead include…
Potato salad, a summertime classic
Fruit salad, a colorful, refreshing pick for warm summer days
Veggies and ranch
Chicken skewers
Corn salsa
As for main entrees, you can't go wrong with cookout classics like hot dogs and burgers! Handheld picks like these are perfect for on-board barbecues since you don't need a table, fork or knife to dig in.
Go fresher than fresh
Of course, to put a fun coastal spin on things, you can always cook your own catch for your barbecue dinner! If you're experienced with fish, just-caught picks like mahi-mahi or ahi tuna make for a delicious dish with unparalleled freshness.
Cool down
In addition to barbecue foods, you'll want to come prepared with refreshing drinks, too. You can't go wrong with a jug of fruit-infused water for a cool, flavorful "aah" moment! You can even freeze fruit juice ice cubes so that as your ice melts, the drink doesn't get any less flavorful.
Throw on your cookout casual
It may be a party, but don't feel the need to dress up! The beauty of a barbecue is in its casual, laidback nature, so opt for a simple cover-up, such as shorts and a t-shirt, that can easily be switched into swimming gear in a moment's notice. Just be sure to bring some spare towels and, perhaps, dry clothes and cover-ups in case the weather gets cooler toward nighttime.
Safety first
In addition to practicing basic barbecue safety, be sure to grill smart on (or by) the water. That includes…
Not grilling while the boat is moving
Not leaving the grill unattended as you step away or hop in for a swim
Wearing a coverup or apron as you grill to avoid hot splatters
For simple, stylish serving…
Disposable barbecue plates and cutlery is the way to go—but for a sturdy, stylish touch, opt for pieces that are made with recycled, heavy-duty materials so that they can stand up to whatever the grill throws their way.
Bring barbecue games and activities
From boat to barbecue, fun activities such as frisbees, floats or a volleyball to play with can make the experience that much more enjoyable for all.
Ready to dig in? Friends and family make your favorite barbecue bites even better, so bring a crowd for prime cruising fun!