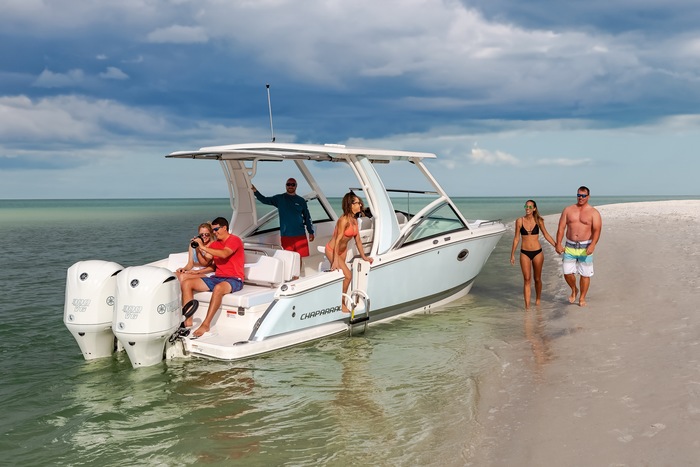 Springtime is finally here—and even if you're still sporting a winter sweater, we know you're probably dreaming of the long, sunny cruising days ahead!
Now is the perfect time to plan your first great getaway of spring—and we can help you do just that. Read on as we share a few of our best tips for a smooth spring vacation you're sure to remember.
Pick a spot that suits your spring break style
Every traveler has a different idea of what the perfect spring break looks like. For families with younger cruisers, it's probably something with lots of activities to enjoy in an accessible area—think state parks that offer playgrounds, beach access, splash pads and more. For cruisers traveling with friends, larger, popular lake spots offer the perfect blend of social fun and on-the-water thrills. Then of course, your perfect getaway might be a laidback excursion with just you, a couple cruising pals and the open horizon at your bow. Pick a spot that works for you! Just be sure to do some research ahead of time to ensure that your destination of choice is open for the season.
Our pro-tip? No matter your spring break style, you can't go wrong with a destination that offers a variety of attractions. Boating hotspots like Southern California, for example, give you the chance to explore everything from Pacific islands to charming, breezy bays and action-packed water sports destinations—so your vacation is bright, colorful and filled with lot of fun memories on the water.
Come prepared
Looking to maximize your time on the water? Simple steps ahead of time can help you enjoy your cruising to the fullest. In addition to must-haves like towels and sunscreen, pack helpful items like sun soothing gel, backup snacks, spare hats and anything else you might need so that you can spend more time cruising and less time stopping at the store to stock up.
Brush up on boating rules
Now is a great time to brush up on boating rules and regulations, since it's likely been a few months since you hit the water. Also, because you will probably be sharing the water with at least a few people who have never boated before (at this time of year, just about everyone's excited to get on the water!), it helps to be especially aware of your surroundings, and to look out for fellow boaters who may need a hand when it comes to docking, making tight turns, etc. We've all been there at some point or another!
Opt for souvenirs that are stylish and functional
For many travelers, spring is the perfect time to break in a brand-new wardrobe—but in addition to fun seasonal flourishes, opt for souvenirs and accessories that are as stylish as they are functional. Sport gear from the Chaparral shop, or polarized sunglasses that let you see with ease on the water, are just a few great picks worth considering for your trip!
Be flexible
You know that old saying, "April showers bring May flowers…"
While we want our springtime adventures to be as bright and sunny as possible, a little rain here and there is always a possibility. It always helps to be flexible on the water so that a little rain doesn't put a damper on your day—you might even enjoy fishing in the rain or, if it's storming, retreating to a cozy waterfront café while you wait out the weather. Having a backup plan is a great way to ensure that your trip is a special one—rain, shine or somewhere in the middle.
Ready? Steady? Go! And enjoy the springtime getaway you've been dreaming of for the last few, frosty months. You've earned it.