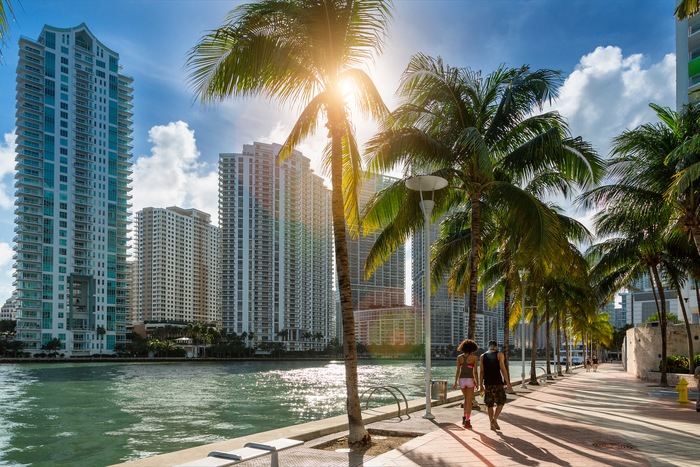 305. Miami. Magic City. Whatever you call it, this slice of South Florida is chock-full of beautiful sights to see and things to do, on and off the water.
As you cruise into town for the much-anticipated Miami International Boat Show, we've got you covered with a guide on experiencing the best of Miami. Just read on!
Miami style 101
Miami's style is as eclectic as its vibrant city skyline—but whether you're opting for floral, beach-inspired prints or a sleek monochrome look, you'll want to stay cool!
Leave the winter coat at home and opt for a sport jacket or shawl that can add a bit warmth on breezy nights, instantly dressing up your daytime outfit. While browsing the boat show, you can't go wrong with your Chaparral sports polo and a pair of shorts—or, for a breezy Miami vibe, linen pants. In a city where you're rarely more than a few steps away from the beach or marina, it helps to dress comfortably for whatever the day might throw your way.
Add sunscreen, a pair of deck shoes and your favorite hat for a look that's as stylish as it is sun-ready.
For big-city digs…
Miami is known for a variety of landscapes, including its famous skyline. If big city digs are your ideal cruising backdrop, you'll see plenty of them during your time at the show—across the bay from Virginia Key is Downtown Miami, whose bright lights will come alive as your day at the show fades into a breezy evening. The famous Rickenbacker Causeway connects Virginia Key to the mainland, but why not get around by boat? From your Chaparral you can meander along the coast of Miami Beach or cruise into Downtown directly by way of the Miami River, which winds inward from Biscayne Bay.
If you're looking for a leisurely place to relax between boat show seminars, you can't go wrong with a trip to the Haulover Sandbar. Located north of Biscayne Bay's main channel, the sandbar is a center of music, food and fun on weekend afternoons—just invite some friends and enjoy! The windbreak formed by Bal Harbour Village and Collins Avenue to the east makes for smooth waters and a beautiful backdrop to your day.
For a tranquil escape…
There's more than one way to cruise Miami. The historic neighborhood of Coconut Grove just happens to be one of our favorites!
A quick trip across the bay will bring you to this beautiful boat-loving community, characterized by lush shores, mangroves and docks aplenty. There are plenty of condos and visitor-friendly attractions to enjoy—like the famous Vizcaya Museum and Gardens, for example—but overall, a fresh, low-key atmosphere makes Coconut Grove the perfect complement to busier days downtown.
Toward the southern end of Biscayne Bay, further tranquility awaits. In Coral Gables, Matheson Hammock Park offers a lush, coastal environment of shade and greenery you'll love getting lost in. At its shore, an idyllic lagoon provides the perfect place to splash or lounge by as you soak in the ocean breeze. The view is just as stunning offshore—this stretch of Biscayne Bay is a great spot to catch the sunset or do some easygoing cruising. Plus, you're not far from Key Biscayne, where Crandon Park's pristine blue waters, soft, bright sand and a forest of palm trees combine to create a gorgeous stop on your cruising adventure. The barrier island's collection of cafes, bike paths and unique views—including the "Stiltsville" homes which jut out from the water—create a one-of-a-kind experience you're sure to remember.
The perfect cruising soundtrack
There's a lot of cruising to be enjoyed in Miami! Create the perfect Magic City playlist to enjoy on your Chaparral. You can't go wrong with artists who call the city "home," such as Gloria Estefan and The Miami Sound Machine, or Pitbull. If you're looking for some lively instrumentals, Caribbean-derived Salsa and Bachata can be hard throughout much of Miami and provide a vibrant soundtrack to your cruising adventure!
Finding your land legs
Heading back to shore? There's just as much to enjoy on land!
Miami's famous Wynwood Walls provide the perfect destination for photo-happy travelers—their bold, vibrant street art facades convey the city's signature spark, and are ideal for snapping vacation portraits, too. You can even grab a cup of Cuban coffee while you're in the area as part of the quintessential Miami experience.
While Miami is known for its lively nightlife scene, it also offers plenty of historical charm, too. Explore the old-school streets of Coral Gables and the lavish Biltmore Hotel, or head over to the Barnacle Historic State Park, home to the oldest house in Miami-Dade County. Even a walk down Ocean Drive is an opportunity to revel in some history before getting your feet wet at the beach—its stylish art-deco façades are a testament to the earliest days of this bustling South Florida hotspot.
Must-eat Miami
Of course, we can't forget about the food! Delicious options abound at the show—from burgers to seafood to Argentinian steaks and much more—but as you explore Miami, you'll want to make time to stop at some of the region's most popular fill-up spots.
For a breezy beach lunch, enjoy a meal at any of the al fresco restaurants along Collins Avenue in South Beach. Versailles Cuban Bakery is a must-do attraction in its own right, the perfect spot for digging into a Cuban sandwich. Finally, for boaters who prefer a simple dock-and-dine experience, you can't miss with Kiki on the River. Nestled downtown, amidst the splendor of the Miami River, this is the ideal spot for delicious Greek food and water views. Plus, it's just across the bay from the boat show, so it's an easy destination to fit into your busy day!
We hope that today's guide helps you make the most of your Miami adventure. For boat show and beyond, Chaparral is your ticket to exploring the Magic City and the abundance of sights, sounds and surprises it has to offer.