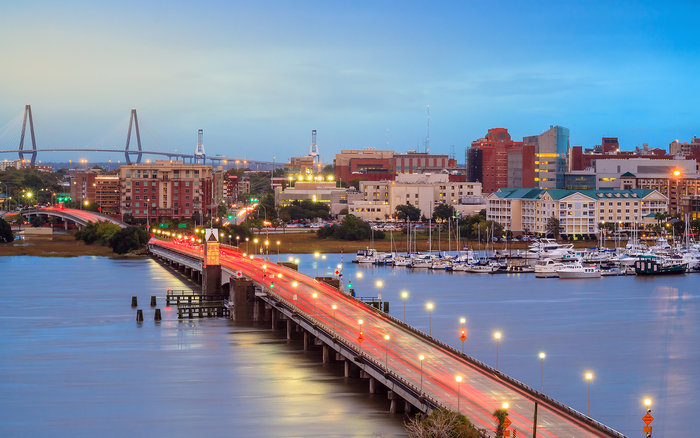 It's hard to define a city like Charleston. The cozy coastal city is known for its quaint, old-fashioned culture, wealth of historical architecture and design, and being a quintessential slice of Southern life.
At the same time, of course, it's a haven for boaters: a port city that offers travelers picturesque skyline views as they cruise along the bridge or soak in the sunshine. A top spot to go fishing, too.
Most of all, though? The city and its waterways exude unbeatable charm. Just read on to see for yourself!
A colonial capsule
Perhaps most apparent upon first glance in Charleston is a sense of history. As you look around, you'll see buildings designed with colonial styles and bright, colorful facades that stand out from traditional cityscapes. Cobblestone streets (marked with the occasional horse-drawn carriage) are also pleasantly outside the norm—it's like your stepping back in history.
On-the-water culture
Of course, that charm doesn't stop on land. As you cruise around the city or zoom past its lit bridge at nighttime, you'll be greeted by the dreamy glow of a quaint city come to life—as you pass by fellow boaters on the water, you might be surprised to find that they're just as friendly here as they are on dry land. A popular vacation and retirement destination, people rarely seem to be in a rush to get around on Charleston's waterways, and why would they be? Here, it's all about savoring the journey.
Exploring the Atlantic (and beyond!)
Once you venture from the cozy, protected shores of Charleston—what comes next? For many boaters, it's a cruise along the Atlantic coast. Some opt to kick back by the long, familiar pier at Folly Beach, where an enchanting beach escape awaits—others will venture to Bulls Bay, where the delightfully spooky Boneyard Beach (named for its twisty, bone-like driftwood pieces) provides a unique spot to capture the sunrise or enjoy a family photo op.
Finally, don't forget about the aquatic opportunities that abound inland! Lake Moultrie, one of the state's biggest lakes, stands out thanks to its unique vistas (marked by "sunken" trees that stick out from beneath the surface) and record-setting catches, like black crappie or channel catfish.
No matter where your Charleston travels may take you, be sure to stop by and say "hi" to Chaparral dealer Longshore Boats when you're in town! Not only are they another friendly face in the area—they can help you get geared up for all the boating excursions you have on your schedule, too, and can point you in the direction of destinations you'll love.