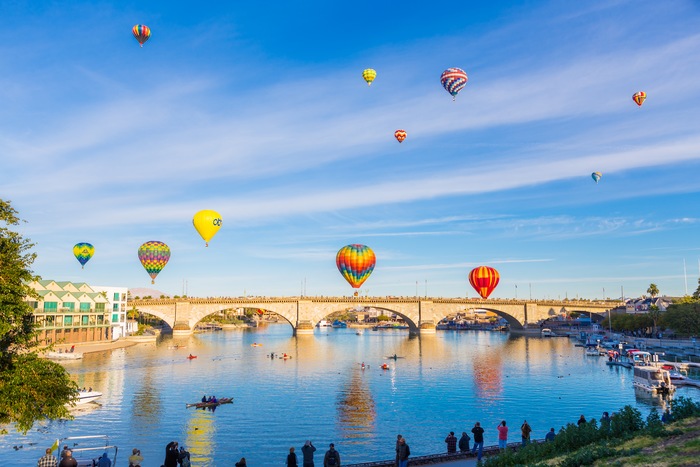 Dry, vast and uninviting, the desert seems like the last place you'd expect to find rich blue waters and a bona fide boating paradise.
But nature can be surprising!
In fact, the arid expanses of the West are home to some of the country's best-boating destinations, characterized by one-of-a-kind landscapes and ample space to explore. In today's blog, we're exploring five such spots worth visiting on your Chaparral this summer. Take a look!
Lake Havasu, Arizona
Cruising along the Colorado River? There's no shortage of breathtaking desert vistas to enjoy along the way. Some of the very best can be found at Arizona's Lake Havasu, not to be confused with Havasu Falls (which, while they're a five-hour drive away, are worth the trip as well!).
A day trip to Lake Havasu can be spent on the quiet beaches, enjoying the natural rocky shores, or cruising alongside the coast of Lake Havasu City itself. You can hit the open water or explore the more personal adventures that abound along the entire shore—you can even make your way under the London Bridge! No, not a replica, but the very same that once served 19th century Londoners. When it began sinking into the Thames due to automobile weight (a problem bridge designers could never have predicted), the need for a new bridge—and a new home for the old one—became apparent. Thus, it made its way to Lake Havasu. You can cross it or admire it from the refreshing waters below!
Diaz Lake, California
Thanks to the rain shadow produced by the nearby Sierra Nevada, Owens Valley is a very dry place. Still, in 1872, an earthquake shook things up—literally—and made way for a spring to open in the valley, filling what is now Diaz Lake.
Here you can camp under the pines, go fishing, take a swim under the hot sun and—of course—cruise your way around the secluded lake, enjoying reflective views of the surrounding Inyo Mountains all the while.
Theodore Roosevelt Lake, Arizona
Arizona's Theodore Roosevelt Lake is beautiful, refreshing, expansive… and, somehow, often unheard of. This hidden gem sits less than two hours outside of Phoenix, but will make you feel like you're pleasantly nestled in the middle of nowhere. Here you can be free to enjoy a lazy day on your Chaparral, go fishing, or cross the Roosevelt Lake Bridge, enjoying panoramic views of the water and the White Mountains as you go. You can even lengthen your stay and spend a night or two on the lake's famous floating hotel!
Lake Pleasant, Arizona
Another Arizona treasure is aptly named Lake Pleasant. It is, well, a truly pleasant place to spend a day! With more than 100 miles of shoreline to enjoy, every boater on the spacious Phoenix-area lake can carve out a place to enjoy for camping, rafting up with friends, or simply enjoying the view of the rolling hills. This lake is everything you want it to be (and then some!).
Lake Gregory, California
Located in a forested patch of California's High Desert, Lake Gregory is a haven for aquatic enthusiasts of all sorts. Surrounded by greenery (something that's often hard to come by in this stretch of Southern California), the lake offers plenty of opportunities for recreation on your own boat or, for a change of pace, fun and games in the form of inflatables, paddle boats, slides and much more. It's an aquatic playground the whole family will get to enjoy.
Magic happens where the orange, sweeping sands of the desert meet the sparkling vibrancy of these aquatic destinations. We hope you enjoy exploring them this season!