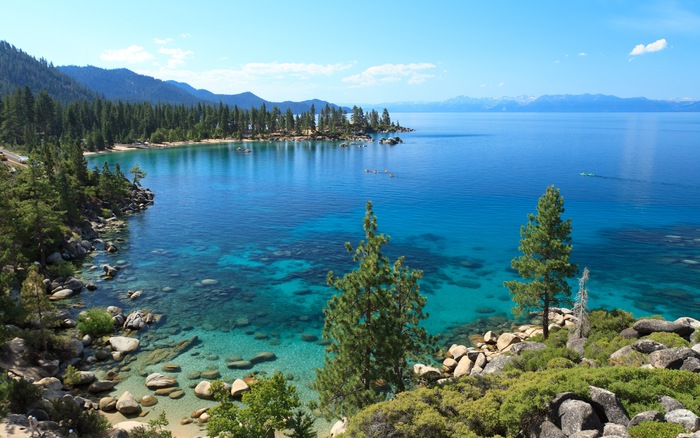 Every year, summer sunshine turns Lake Tahoe's snowy digs into a one-of-a-kind aquatic paradise, beloved by boaters of every sort.
Now that Lake Tahoe (one of the world's largest alpine lakes) is almost filled to the brim with cool mountain snowmelt, it's become even more of a must-do destination for summer travelers. Read on as we share a few key highlights of this vibrant mountain hideaway, and some of our favorite ways to enjoy the water from your Chaparral.
Beach better
For many travelers, their first quintessential Tahoe experience is hitting the beach—right after the winding, tree-lined car ride or hike to get in, beautiful beaches (ranging from rocky coves to idyllic, sandy shorelines) offer the first uninterrupted glimpse of the cool blue expanse that puts the "lake" in Lake Tahoe.
You might want to jump right in the water, but take your time as these beaches offer plenty to enjoy in their own right. One of our favorites is Sand Harbor, a pristine stretch of shoreline located on the lake's north shore, beloved for its white granite boulders verdant shores and sparkling turquoise waters. It's the perfect place to launch your boat, paddle out or simply kick back and enjoy the view. The Sand Harbor region is also home to the Lake Tahoe Shakespeare Festival, which is taking place now and throughout August!
Another great spot to explore is Kiva Beach, the perfect place to travel if you've got a furry friend in tow. This South Lake Tahoe spot is one of the few lake destinations where dogs are allowed to come in and enjoy the view, too, so feel free to splash around or simply soak up some sun with Fido.
Hit the water
Of course, the H2O is the main attraction here at Lake Tahoe—and fortunately, there's nearly 200 square miles of it to explore! So you have the opportunity to spread out and explore every kind of on-the-water adventure. The wider main channel of the lake is perfect for fast-paced fun like wakeboarding, waterskiing, tubing or simply cruising, but you don't need to travel too far out to reach a spot that's open enough to enjoy.
In addition to adventurous towed sports, there's another kind of boarding you can enjoy on Lake Tahoe: stand-up paddleboarding. This relaxing activity is a great way to meander along the lake's picturesque shore. You might also try canoeing or kayaking to get even closer to the water! The lake boasts plenty of nooks and crannies to make leisurely paddling adventures all the more interesting.
Because Lake Tahoe is so stunningly clear, its waters also provide the perfect backdrop for snorkelers! The unique landscapes found at both Sand Harbor and D.L. Bliss State Park allow for a truly enthralling underwater experience, so be sure to pack your mask and snorkel before your trip. You won't regret it.
Explore a slice of Scandinavia
If, while cruising, you come to think that Lake Tahoe's serene water and enchanting waterside scenery seem like vestiges of another world—or, at least, another continent—you're not alone.
For Lora Josephine Knight, who owned a parcel of land overlooking Emerald Bay on the lake's west end, the majestic expanse was reminiscent of the fjords of Norway. This is why she arranged for a waterfront castle called Vikingsholm to be built on Emerald Bay's shores. The façade is uniquely Scandinavian, a 20s-era estate that features intricate stonework and lux windows that reflect the blue sky (and water) that shapes Lake Tahoe. You can cruise by the castle today, or even take a tour of it during the summer months!
Our Tahoe travel tips
Visiting Lake Tahoe this summer? Here are a few tips for a smooth adventure:
Get an early start! Certain spots, such as Sand Harbor, are especially popular during the summer months. Arriving early in the morning will help you enjoy your day to the fullest! (Of course, if you don't find space at your first pick spot, don't worry—Lake Tahoe, as you may have guessed is filled to the brim with beautiful beaches and out-of-the-way coves worth exploring, so you're never far from a perfect day on the water!)
Bring along sturdy, no-slip hiking shoes and practice safety while navigating rocky landscapes (like those that surround some of Lake Tahoe's beaches and waterfalls). Lake life is all about flip-flops, but when you're back on dry land you will appreciate the extra traction that sturdier shoes can provide.
Bring cool-weather cover-ups. You won't regret packing an extra sweater and dry clothes for your day at Lake Tahoe. As the day fades into late afternoon and early evening, temperatures at the lake can be pretty brisk for summertime. So cover up and keep the fun going!
Your Chaparral connection
For Lake Tahoe travelers, nearby Reno is a popular place to rest your head at night between on-the-water adventures. It's also home to Michael's Reno Powersports, your local go-to Chaparral connection for boats, water sports and local insights for the world of Lake Tahoe cruising!
Sultry summer days serve as the perfect backdrop to Lake Tahoe adventures, both on and off the water. We hope that today's guide helps you enjoy your trip to the fullest.