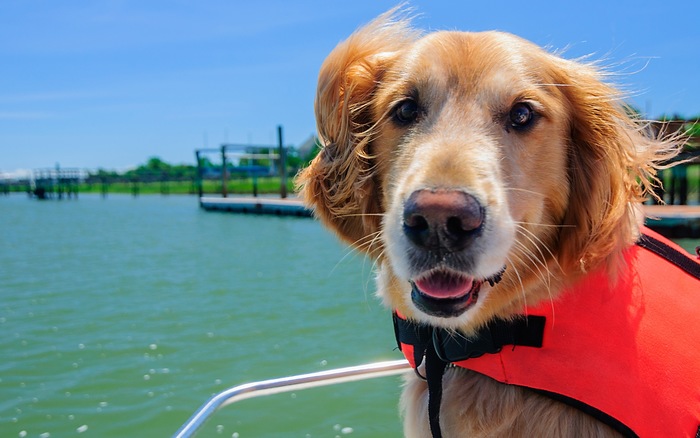 July and August are home to the "dog days of summer," a stretch of time when days seem longer, hotter and even sunnier than usual. But who says that's a problem? To us, dog days sound like the perfect excuse to throw an on-the-water party!
In honor of the dog days, why not invite some of your four-legged friends for the fun? Read on as we share a few simple tips for throwing this fun summer party.
Plan safe, splashing Fido-friendly fun
If you're inviting dogs to your dog days party, you will want to plan an event where they are free to splash around! Great venues include your local dog beach or a sandbar, which is often a popular place where boaters can raft up and splash around in shallow water.
Here are a few planning tips for a safe, smooth ride:
Remember to bring plenty of fresh water (and a dog bowl) for your pup to rehydrate during the day.
Dogs wear lifejackets, too! If your party involves time in the water, be sure to bring along jackets for your four-legged guests so that they can splash around safely.
Don't forget the essentials: extra towels, cleanup bags, and shade features like umbrellas (perfect for pups who want to cool down after a long day of fun).
Just like you would with your human swimmers and snorkelers, turn off your boat before pups jump into the water so they can splash around safely.
As far as fun goes, there are plenty of ways to enjoy the water with four-legged friends! A few easy go-tos include stand-up paddleboarding or simply riding around on inflatables (of which you can never have enough). Bring along frisbees and dog toys to enjoy hours of catch and fetch fun.
Craft a simple dog days menu
If your dog usually eats in the morning and night, she probably won't need any snacks at the party—besides, maybe, a few fun treats! As for your human guests, hot dogs are a summertime staple and an especially appropriate treat for your dog days party—plus, they're easy to make and enjoy. Fruit-infused water is a refreshing option for staying hydrated (which you'll want to do on long days by the water), while fruit salad is another sweet way to use your fresh summer produce.
Play your favorite summer tunes
Now is a great time to put your outdoor or transom speaker to use. Craft a playlist of your favorite summer tunes, and be sure to include a few dog-centric classics (think "Hound Dog" or "Who Let the Dogs Out?") for fun, thematic flair.
We hope that these tips help you throw a dog days party to remember. These "dog days" may be hot, but they're best spent on your Chaparral, cooling down and splashing around with friends and family… four-legged members included.