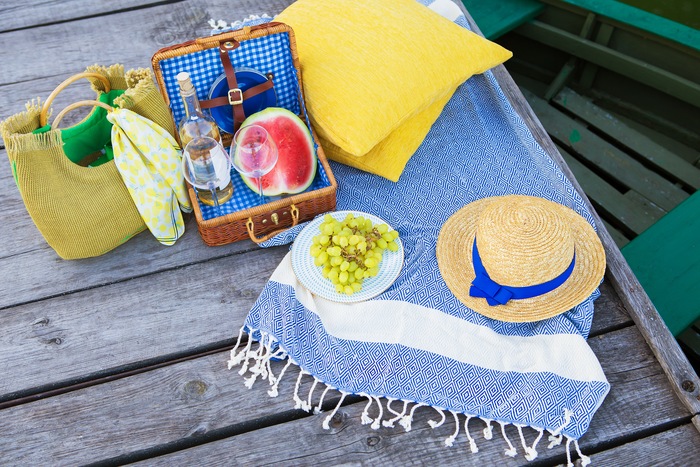 Counting down the days until you can get back on the water? We're right there with you!
But as many of us face plunging winter temperatures, there are still plenty of ways to connect with your Chaparral and get it ready for the season ahead. You might not be boating just yet—but by spending time on cozy touches and DIY projects for your boat, you might help the time pass just a little bit quicker.
Read on to see our ten favorite ways to deck out your Chaparral for the months ahead!
Pick out the perfect pillows
Boating, fishing, boarding… a day on the water can be quite the workout! Treat yourself to some TLC by bringing along a few throw pillows to toss by the bow, a perfect setup for kids or anyone who simply wants some shut-eye after a long, fulfilling day. If you have a cabin, you can keep them below to spruce up your space and make it extra homey.
Get cozy with outdoor-friendly throws
Along the same lines, bringing along some blankets is another great way to achieve relaxation and a cozy onboard atmosphere. Opt for outdoor-friendly blankets that easily whisk away water and sand so that you can carry it along wherever your day may take you!
Craft personalized deck packs…
When cruising with a full crew, it can be tricky to ensure that you have everything you need. Ensure that no one goes without their goggles, flip flops, towel, snacks and other must-haves by crafting personalized packs they can tote around. As a fun craft for a cold winter's day, kids can even customize their bags with stickers, paint and more to make it their own. By delegating the prep to the whole crew, you can get on the water that much quicker—and that's what we're all about!
… and towels, too
Another fun way to make your boat feel even more like home? A personalized towel for every passenger! While you can still keep some spare dry towels in storage, a unique towel for each person (whether it be printed with a unique pattern, favorite character or even a simple monogram) can make the trip feel that much more luxurious. Personalized towels also make for great party favors for on-the-water gatherings.
Create a go-to picnic basket
Just can't wait for warmer weather? Mark your first springtime trip with a beautiful picnic, enjoyed on board or by your favorite waterfront spot. You can start preparing now—simply pick out a basket and some basic picnic-ware (perhaps even add fun touches like tea-light candles or faux flowers for additional ambiance). When the day comes, you'll be able to pick up produce and your favorite lunch-ready picnic options with ease!
Prepare a travel keepsake box
From seashells to postcards and everything in between, we tend to accumulate lots of keepsakes on our onboard adventures. Consider keeping an airtight "keepsake box" on board to collect them all, so that they can be safely brought back to land where they'll be kept on bookshelves and scrapbook pages for years to come.
Assemble a simple swim caddy
To make your onboard adventures even simpler, bring along a swim caddy! You can turn a basic shower caddy into a swimming "toolbox" by filling it with sunscreen, spare goggles, water shoes and anything else you might need for a day of splashing fun. You can even pack some cooling Aloe Vera gel to cool off sunburns! Most shower caddies have cutouts underneath so that water can drain when you carry it around, making this the perfect way to carry items from home to the boat to the beach and back again.
Pick your favorite songs
If the cool weather has you dreaming of being back on board, try planning for your return by crafting a cruising playlist! Listening to songs that remind you of those breezy, endless days on the water is sure to warm you up. Once you get back on board, you can play those tunes through your Chaparral's transom speakers and enjoy, once again, the groove of the water.
Make cleaning a breeze
We all know that a mild soap-and-water solution is one of the best ways to keep your boat looking its best—but you don't have to wait to get back on land to get it clean! Keep a quick clean-up kit on board for tidying up small messes as they happen.
Throw on a tablecloth
An outdoor-friendly tablecloth makes for a great addition to your cockpit dining setup. A touch of fine dining ambiance can transform your on-board dinners to truly special events; for more casual outings with the kids, you can even opt for a plain white cloth that can be doodled on during long days on the water.
Even in the midst of winter, these boat "housewarming" touches are sure to warm your spirits, too, and help you pass the time before you're back on the water.