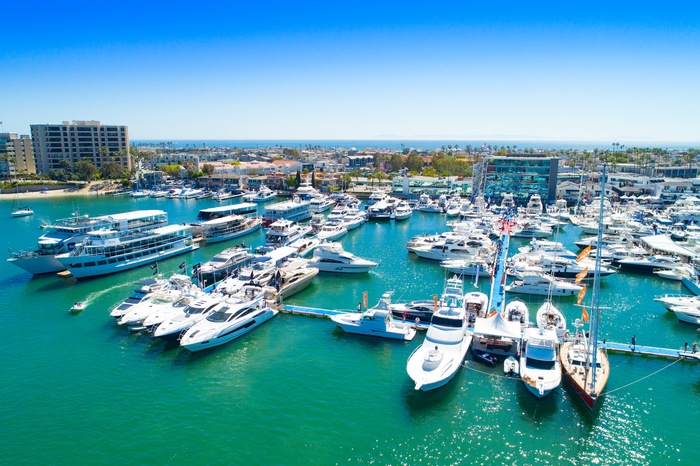 The holidays may be over—but with boat show season in full swing, we think it's still the most wonderful time of the year.
As you prepare to head out to your next show (whether it's close to home or a road trip-worthy destination), be sure to take a look at our checklist below for all things boat show fun.
Be sure to bring…
Layers
Boat show season falls in the middle of winter—so depending on your destination, you will likely need to dress warmly. But there's a good chance you will also be heading in and out of doors for much of the day, too, so be sure to dress in layers that will let you adjust your outfit with the temperature. The basics of layering are easy: throw a thick, waterproof layer over a lighter piece of insulation (think a Chaparral quarter-zip, for example) and a t-shirt underneath so that you can be comfortable indoors and out.
Notebook and pen
Questions—we've all got them. Whether you're new to the world of boating, or simply have specific questions about technique or best onboard practices, it can be helpful to jot down your questions so that you don't forget them on show weekend. Then, when you run into industry professionals, you'll be able to ask away with confidence. A pocket-sized notebook and pen can also help you make connections with people you meet along the way.
Business cards
Speaking of connections, there are lots to be made at boat shows big and small! If you're serious about walking away with new contacts (from fellow boaters to industry professionals who can help you achieve your on-the-water goals or projects), you can't go wrong by bringing some business cards to your next boat show. These days, business cards are not just for businesses. They serve as an easy way for you to pass along your name and info to people you want to keep in touch with; at busy events like boat shows, where you have lots to see and do in a short period of time, they are especially helpful!
Simple snacks
While you'll definitely want to carve out some time to visit local restaurants over boat show weekend, it's also smart to pack a few simple snacks to enjoy between meals. Granola bars, trail mix, carrots and other on-the-go bites are easy to pack and snack on as you make your way around the show. While it may seem surprising if you've never been to a show before, walking the floor, hopping aboard models and trying new activities can result in quite the workout! Ensure that you're fueled up for all the day delivers.
Tote bag
A tote bag is essential for packing your snacks, notebook and other gear—and, of course, for carrying around all the boat show freebies you're sure to pick up along the way.
Sun gear
Caps, shades and sunscreen aren't just good for warm-weather spots like Florida—though there are definitely a number of Sunshine State shows worth attending in the months ahead! Sun protection comes in handy whenever you're spending any amount of time outdoors, so treat your boat show excursion like a weekend getaway and cover-up.
Be sure to do…
Plan out your must-do activities
Boat show weekends are filled with lots to see and do, so be sure to plan ahead and make time for the things that matter most! For some, that might be hands-on seminars on the art of a catch; for others, lectures on navigating to popular destinations around the globe. Draft a rough schedule of events you'd like to participate in, and check online to see if you need to pre-register for your slot in any of them.
Research the area
As we've written about before, there's an entire world to explore beyond the walls of the boat show! If you're traveling from out of town, be sure to check out the local scene. Visit hole-in-the-wall restaurants, catch some live music, stop at a local museum or spend time at a city park. Even though it may be too cold to boat, you can still enjoy your time in town and make some memories worth re-living once the weather warms up!
Ready to go? We hope that today's checklist helps you enjoy boat show season to the fullest!