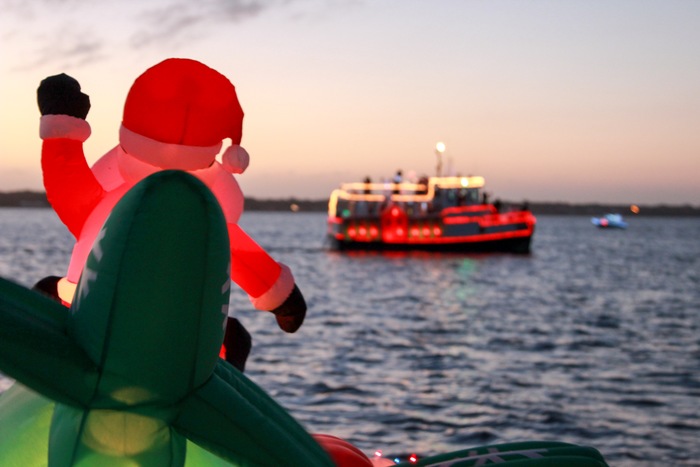 Snowmen, a roaring fire and winter coats so thick they make it hard to move. We all know what the holidays look like… or do we?
As it turns out, in those select spots without a "White Christmas," a holiday spirit pervades in fresh, exciting ways—including, naturally, right on the water, by way of festive holiday boat parades.
Whether you're watching from shore or decking out your Chaparral in seasonal garb, you'll want to keep track of these upcoming events—each one perfect for getting you into the holiday spirit. Take a look as we explore a few of our favorites!
Florida
Leave it to the Sunshine State to craft an on-the-water holiday tradition. With nearly 10,000 miles of shoreline, there is ample room for cruisers to show off their merriest seasonal displays. Here are just a few choice spots to check out…
Winterfest Boat Parade
You already know the Fort Lauderdale Intracoastal Waterway as a beloved boating destination—but come the holiday season, it comes alive like nothing you've seen yet. On December 15th, watch from the grandstands or get on the water yourself to show off your seasonal spirit! This Hard Rock-hosted event attracts much fanfare and festivity, putting it on the map as one of Florida's most popular parades on or off the water. Before and after the parade, stick around the Intracoastal to enjoy some of the Sunshine State's best boating digs—here, the vacation mindset reverberates all year-round.
Schooner Wharf Bar Lighted Boat Parade
Fort Lauderdale is a bustling boating destination, and for good reason, but if you crave some more tranquility, take a cruise south—way south—down to Key West. Here, on December 15th, you'll want to head to the Schooner Wharf Bar (a delicious spot for breakfast, lunch, dinner or drinks), the main thoroughfare by which a beautifully lit assortment of boats will pass. It's the ultimate treat after a long day of sportfishing (which, in Key West, is a must-do), and a chance to enjoy holiday thrills at the heart of paradise.
Winter Park Christmas Boat Parade & Water Ski Show
Central Florida boaters will want to check out the Winter Park Christmas Boat Parade & Water Ski Show on December 15th. Located on gorgeous Lake Virginia, the event gives area homeowners the chance to show off their boats in their holiday best. For thrill-seekers, there is also the opportunity to catch a waterski competition! The best part? Proceeds from the event benefit local schools' food pantry programs—so you can have fun and do some good at the same time.
Lake Virginia is just one of many Central Florida lakes worth exploring, so take your time as you "lake-hop" from one to the next.
California
West Coast boaters have a lot to look forward to as well! Another state with an impressively long shoreline, California offers a range of parade picks worth checking out…
Fisherman's Wharf Holiday Boat Parade
While San Francisco may not be warm and toasty this winter, it never really is—even in the summer you'd better bundle up! So the brisk air is just business as usual at the heart of the Golden State. Enjoy it with a thermos of hot cocoa and your favorite layers, then check out the famous Fisherman's Wharf Holiday Boat Parade. As the more-than-60 beautiful boats cruise out from Pier 39, you'll be treated to a festive scene that truly comes only once a year. Watch in awe as the familiar San Francisco cityscape is transformed into an on-the-water wonderland—and of course, make plans to explore it for yourself when it's light out again. Cruising this California gem is a rite of passage for all West Coast boaters.
Ventura Harbor Holiday Parade of Lights
Southern California boaters will enjoy this Ventura Harbor holiday extravaganza, which spans across two fun-filled days, December 14th and 15th. During the day, have the kids enjoy some fun carnival-style rides and meet Mr. and Mrs. Claus. Once night falls, the parade begins (this year's theme is a delightfully 70s tribute, "Rocking on the Dock side of the Moon"), and vibrant, elaborate displays will cruise across the water in all their seasonal brilliance. Stick around for fun the next day, too. Cruising out from Ventura Harbor is always a treat thanks to the city's colorful coastal façade and boat-loving culture.
Hawaii
Looking to escape to some much-deserved island time for the holidays? Hawaii has you covered. Removed from the hustle and bustle of holiday shopping and cold winter weather, the closest thing you'll get to Frosty here in Hawaii is a sand "snowman" on the beach…
Festival of Lights Boat Parade
Hosted by Hawaii Kai Towne Center on the Big Island, the Festival of Lights Boat Parade is a beloved tradition, 22 years and counting. Held on December 15th, the event gives visitors the chance to soak up festive holiday sights against the serene island backdrop. Be sure to carve out some time to check out local waterways on your own, too—the expansive Kui Channel and Paiko Peninsula both offer unparalleled views of some of Hawaii's finest shoreline.
Just learn one key piece of vocabulary before you go: Mele Kalikimaka, or "Merry Christmas," as we learned in that famous Bing Crosby tune!
These on-the-water destinations are true treats at any time of year—now watch as they come aglow in glittering, festive lights! We hope you enjoyed today's virtual tour… now pack up your hot cocoa and enjoy the ride.