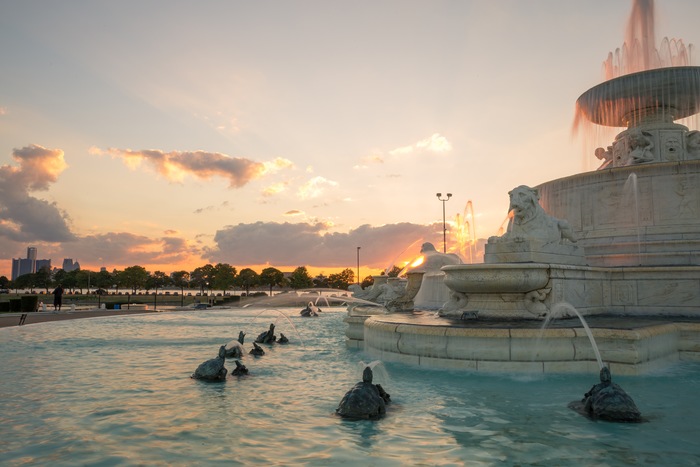 What's the view like below the surface?
At Michigan's historic Belle Isle Aquarium, you don't need a wetsuit and scuba mask to find out. The small but spirited aquarium, one of the oldest in the country, is known for glittering teal-green tile that casts an ethereal, underwater glow—like you're on a dive yourself.
Of course, there lies just the beginning of the true charm of Belle Isle. Today, we're exploring this Detroit River gem: the storied aquarium, and the pristine aquatic expanse that surrounds it. Take a look.
A turn-of-the-century gem
In 1904, the idea of a public aquarium was not as widespread as it is today—that's part of what made the Belle Isle Aquarium's debut in 1904 so groundbreaking. Even in modernity, the aquarium's 20th-century touches speak to a sense of timeless elegance: right as you walk into the building on Belle Isle, you're greeted by an ornate carving of Neptune, Roman God of the Sea, as well as a flourish of neoclassical architecture in the form of pillars that frame the façade.
The grandeur continues indoors, where a one-of-a-kind design (well-preserved, all these years later) shapes the experience. Vibrant tiles throughout cast a lush, greenish glow that's reminiscent of the underwater world the fish themselves call "home." Small tanks line the walls, offering a close-up, intimate view of the aquarium's varied species—including all seven species of North American gar, the only collection of its kind.
That the aquarium still stands today is a shining example of its role in the community. In 2005, just one year after its centennial milestone, tough economic times forced its closure—but the community couldn't see it go away forever, and banded together to reopen it as a volunteer operation of the Belle Isle Conservancy in 2012. Today, you can visit on weekends and see those efforts come to fruition in a truly immersive way.
From the Detroit River…
Belle Isle (and its famous aquarium) can be found on the Detroit River, barely a stone's skip away from the hustle and bustle of the city. Boating along the skyline offers a picturesque experience—but it's what lies beyond the river—where Belle Isle and Peche Island mark its flow into Lake St. Clair—that forms a true aquatic escape.
Lake St. Clair is one of those unique spots that spans across two countries, both the United States and Canada. The geography here results in Canada's side of the lake sitting southward, so stick north to find all your favorite US haunts (including beautiful Anchor Bay). Don't worry, though—venturing off to the Canada side is not the hassle it once was, thanks to new Canada rules that let you come and go as you please with no need for custom registration unless you plan to land. Just double check the regulations before your trip, and you're good to go.
The lake is spacious by most standards—of course, next to its neighbors, the famous Great Lakes, it certainly seems small in comparison! This duality means that you can get a lot out of your time here, without needing to travel very far or plan a week's worth of lakefront accommodations. Cruise along the marshes of Harsens Island or the Lake St. Clair Metropark, a popular destination for outdoor fun and ambling around nature.
… to your Chaparral connection
One spot we especially love on Lake St. Clair's shores is, naturally, our local Chaparral connection Sun Sport Marine. Located over in Harrison Township (a local community that loves to boat), Sun Sport is a top-12 Chaparral dealer, noted across the region for its exceptional customer service. Whether you want to check out the new boats, get yours serviced or simply find out some of the best local destinations to visit during your time here, Sun Sport is a must-do stop along the way.
Dreaming of a visit to Belle Isle? French for "beautiful island," this is a spot that lives up to its name—come out and see for yourself soon!