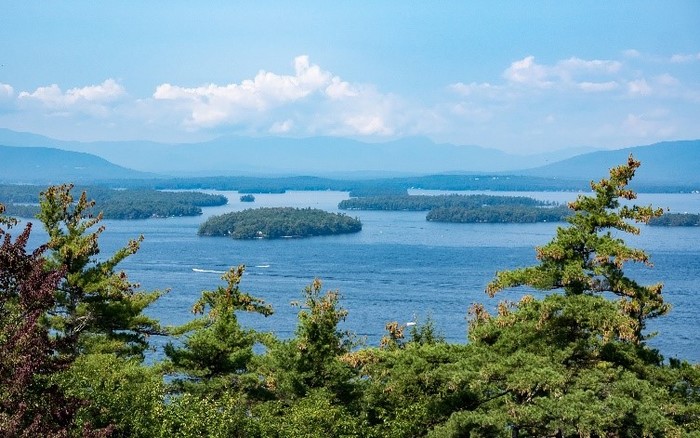 It was a long, cold winter this year—so why not warm up somewhere with a view?
All around New Hampshire's gorgeous Lake Winnipesaukee, signs of the season are thawing away, making room for spring and summer travelers to boat, ski, swim and play the day away. You just need to get there!
Today, we're taking a closer look at this beloved New England destination—as well as a stand-out Chaparral dealer, Shep Brown's Boat Basin, who's called the lake "home" for nearly 100 years.
Just read on!
A piece of history
In 1919—nearly a century ago—Shep Brown started what would become a Lake Winnipesaukee mainstay, his very own marina made for boaters to flock to every summer… and to store their prized possessions every winter. A dedication to the love of boating has persisted ever since, with the Shep Brown team working around-the-clock to care for your boat, winterize it when needed, store and even valet your Chaparral out to you when it's time to play.
Equipped with modern touches and electronics, your boat might look a lot different from the kind Shep was used to seeing back in 1919—but the commitment to quality service is very much the same.
What's more, Shep Brown's Boat Basin is nestled in Meredith, New Hampshire, a lakefront town renowned for its ever-visible history and culture. Classic New England architecture can be seen throughout, including at the waterfront, where those beautiful facades blend with the lush lakefront foliage. Don't be the first to clear out come September, though, since the fall brings beautiful seasonal hues worth sticking around for!
Embracing the "Ice-Out"
For those who love Lake Winnipesaukee, the arrival of summer can't come soon enough! That's why locals have long taken part in the "Ice-Out" tradition, when people try to guess the date that the winter's ice will have melted, allowing the Mount Washington to travel around each of the lake's ports. An aviator flies over the lake and makes the final call—in case you were wondering, this year's "Ice-Out" Day was on April 26th at 5:40 p.m, making the lake ready to enjoy just in time for spring and summer boaters.
Amp up the thrills…
In addition to this fun local tradition, locals and visitors are equally passionate about water sport fun. Your favorites—cruising around the lake, wakeboarding or island-hopping—are all easy to enjoy, as is waterskiing, which comes into favor when the other kind of skiing is no longer viable around the lake.
As you speed by on boat (or from behind, on your board or pair of skis) you won't be able to help but notice the gorgeous, rich green islands that are scattered across the lake. These are small, lush and always inviting, often populated with cottages and cozy lakefront vistas.
… or just kick back
When you're thoroughly tired after a day of water sport fun, it's nice to catch some zzz's (or some sun) on one of Lake Winnipesaukee's beloved beaches. Weirs Beach is an especially popular spot, known for great swimming, retro-style boardwalk and constant hum of activity. There's always something fun to do or see at Weirs.
While a worthy destination all year round, we can't help but love the summer side of Lake Winnipesaukee for its rich blue waters, charming islands, towns and culture all around. Head to Shep Brown's Boat Basin May 12th for a Spring Open House and Boat Demo… or come by year-round for all your Chaparral needs and know-how for local activities!