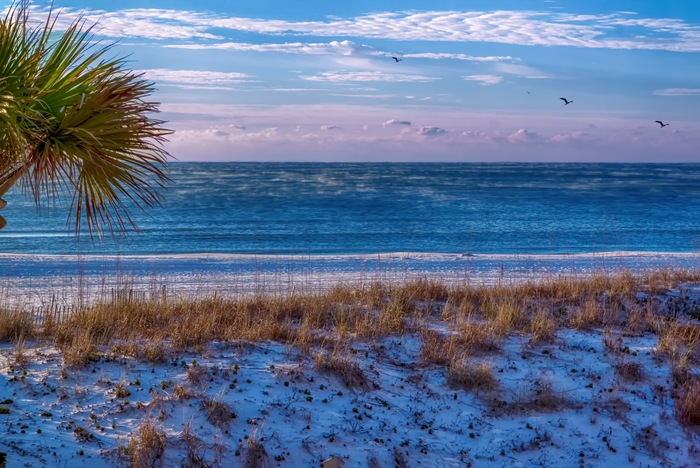 Fall is officially here—but don't expect the boating scene off Alabama's golden Gulf shores to die down any time soon!
While much of the country is preparing to bundle up and switch around their outdoor routine, the folks down by the Gulf are enjoying balmy weather, ample sunshine and on-the-water action that would be the envy of any summer adventure.
Whether you're looking for a weekend escape—we could all use one! –or perhaps a place to make your seasonal home on the water, we've got you covered. Read on as we share a few of our favorite spots to explore, all based on your preferred on-the-water activities.
For beach fun (and beyond)…
Some of the Gulf Coast's most beloved real estate spans the cities of Gulf Shores, Orange Beach and others that straddle the Florida-Alabama border, a string of shoreline known for picturesque, white sand and dazzlingly blue water.
When you're not lounging around in the soft, pearly sand, take to the water—leisurely cruises along the Gulf coast provide plenty of opportunities for small-town stops, resort-style scenery and waterfront cafes filled with charm and character. (You'll want to get your fill of deliciously fresh Gulf seafood while you're here!)
Robinson Island is one of several spots you can take a break at—its shallow waters make for great raft-up grounds when warm, sunny weekends beg you to come out and relax.
For fishing fun…
Of course, anglers will be delighted by a fishing scene that's as lively inshore as it is farther out—you don't need to travel far to try your hand at catches ranging from cobia to king mackerel, bonita and red drum. Even closer to shore (along the region's famously brackish bays and bayous) you'll find flounder, pompano and sheepshead—noted in particular for its peculiar set of teeth.
Of course, there are certain specific spots you'll want to check out for some especially exciting angling. Dixey Bar is one such spot—an offshoot of the expansive Mobile Bay, snapper, cobia, red drum (a.k.a. bull reds) and even hammerheads have been landed at this near-mythical stomping grounds.
Heading out from Bon Secour River and into the bay is also a worthy excursion, especially for cruisers who want to try their chance at landing monster-sized tarpon and other impressive catches.
For an added thrill…
There are, of course, plenty of ways to indulge your wild side while in town. The same waterfronts that make for great, easygoing cruising offer calm stretches perfect for trying out water sports like jet-skiing or, the regional favorite, flyboarding. Smaller spots surrounding Mobile Bay can make for excellent wake sport action, too, since quieter, glassy waters make their way into the main bay from throughout the state.
Your Chaparral connection, Sunrise Marine
Your Alabama adventures will take you to many places—to inshore angling havens, leisurely cruises and action-packed days of water sports by the bay—but they should all start at one: Sunrise Marine! Located in Daphne (with nearby locations in Destin and Panama City for Sunshine State boaters), Sunrise is your go-to Chaparral connection, a regional fixture with more than 15 years of providing terrific service and, of course, the latest models. Stop by on your Gulf Coast travels to see what the Sunrise lifestyle is all about!
Cruise to on-the-water fun in the warm, sunny escape of Alabama's Gulf shore region for a trip you're sure to remember.