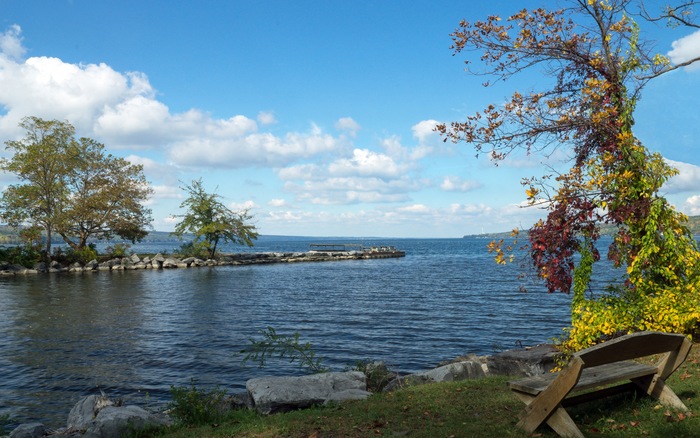 Looking for the perfect way to kick off your summertime travels? Follow the Finger Lakes—they'll point you toward fun cruising, thrilling water sports and scenic vistas to soak in with your go-to crew.
Shaped like the long, slender fingers of an outstretched hand, New York's Finger Lakes are positioned between beloved boating spots like the Great Lakes and, of course, the Atlantic Ocean just a few hours away—but even in the shadow of such popular places, the Finger Lakes shine bright with their own unique cruising character, making them a must-do destination for summertime cruising.
Ready to learn more? Hop aboard as we take a virtual tour of the larger Finger Lakes, as well as some of the area attractions worth visiting along the way.
Seneca Lake
The center and spiritual heart of the Finger Lakes, Seneca Lake is known for being a top boating spot—filled with opportunities for everything from leisurely rides to fast-paced wake sports adventures. Thanks to the lake's long shape, cruising here can feel a lot like a river trip, with charming shore destinations ranging from small towns to lush, waterfront thickets where you can feel totally immersed in nature. That long, narrow shape also lends itself to water sports, of course, a popular activity throughout the Finger Lakes.
Looking to take things up a notch? A visit to the Finger Lakes pairs perfectly with a trip to the Great Lakes, too—from the charming small town of Geneva, on the northern end of Seneca Lake, drive due north and you'll hit Sodus Point. Not only does this waterfront destination offer access to Lake Ontario and all its splendor, but it is also home to Chaparral dealer Krenzer Marine, a top local connection for all things Finger Lakes and Chaparral!
Cayuga Lake
Another beloved destination, Cayuga Lake is similar to Seneca Lake in its long shape and endless on-the-water opportunities—but it comes with a unique twist in the form of nearby Taughannock Falls. Home to the highest single-drop waterfall in the East, this destination offers a one-of-a-kind look at the glacially carved landscape that makes the Finger Lakes so uniquely unforgettable.
Keuka Lake
Also known as the "Lady of the Lakes" for its natural splendor and enchanting views, Keuka Lake is a top destination for those who want to cruise in comfort and tranquility. Its Y-shape means that there are a wide variety of experiences to enjoy, depending on the path you choose. The "fork-in-the-road" element lends a sort of mystical air to Keuka Lake, giving boaters the chance to define their adventure or leave it up to the wind's push and pull. Either way, be sure to check out relaxing activities such as kayaking, canoeing or kicking back on a pair of Adirondacks when you're back on shore.
Canandaigua Lake
The rolling landscape that surrounds Canandaigua Lake makes it a choice destination for sightseers—lush foliage lines the dramatic hills, almost mimicking the look of Caribbean islands jutting out of clear blue water. Hug the coast on your Chaparral or hop onto a kayak and get even closer. Whichever way you go, Canandaigua Lake is the kind of place that invites you to take your time and unwind as you explore the natural allure.
Bonus: Thumb's up…
Though it's not traditionally considered one of the Finger Lakes, Oneida Lake is a worthy addition to any Finger Lakes itinerary—in fact, it's close enough that some people call it the thumb! From Sylvan Beach you can head out and explore this wider lake's open expanse, a great spot for cruising, waterskiing and everything in between.
Exploring the Finger Lakes wine scene
When you're back on shore, don't forget to visit some of the Finger Lakes' famous wineries that overlook the water! The lakes, which were formerly river valleys carved in by glaciers, help to create a unique microclimate that's perfect for wine varieties like Riesling, a grape from the Rhine region in Germany. It's the perfect way to end your day—and to plan the next day's cruising adventures, too.
You can count the Finger Lakes on about two hands (and change), but you'll need much more than that to list all the things that make these lakes so great. Start counting and come out soon—with your Chaparral, you can see it all in style and smooth cruising comfort.