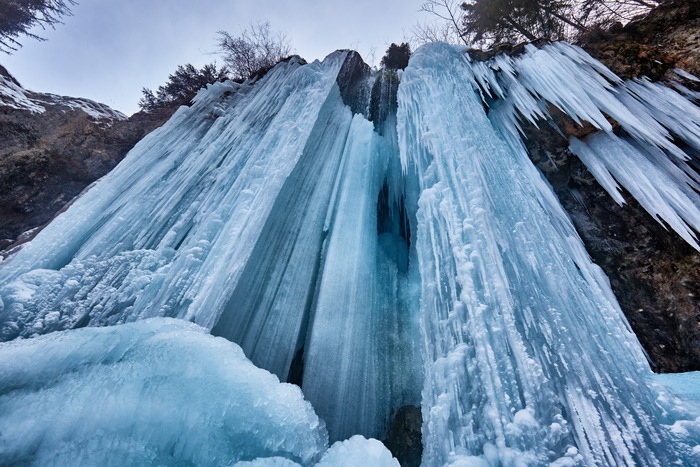 Come summertime, your favorite water destinations will be warmed up and ready to enjoy. But why wait until then?
Even if they're not quite ready for swimming, those beautiful water features are worth checking out with a cup of cocoa in hand. Take a look below to see a few of our favorite winter-fied water vistas.
The Great Lakes
During the warmer months, the Great Lakes offer cool, much-needed relief from the heat for otherwise landlocked cities in the Midwest. At this time of year, of course, they take on an entirely different look—and seeing them up close is truly mystical.
The shift in Lake Michigan is a big one, of course, because its change in appearance affects the entire cityscape of Chicago. During the iciest winters, we've seen the edge of Lake Michigan turn into a sort of lake wall—a puzzling border of ice that seems to defy all logic. But if you're willing to brace the cold winds of "Chiberia" at this time of year, it makes for a unique sight to see. Just be sure to pack on the layers and bring plenty of hot cocoa or coffee to keep you going!
Where the lake shore is rockier and more natural, we see even more perplexing ice formations. On the Ohio shores of Lake Erie, for instance, rocky-shaped piles of ice appear at the edge like something out of a sci-fi movie.
Of all the Great Lakes, however, Lake Superior might be the most popular during the winter months. One daring man even went surfing in the frosty waves this year! He had the story to tell (and a beard turned to ice) for his efforts.
You can experience the wonder of Lake Superior too, without jumping on a surfboard. While officials say the lake is not quite frozen enough yet, one popular wintertime activity is to visit the Apostle Island ice caves (which, at any other time of year, are hard to access). The experience is truly worth enjoying, but the ice has to be thick enough—for a long enough consecutive time—for it to be pedestrian-worthy. Keep up with local officials to know when the ice is ready for visitors!
Niagara Falls
One of the continent's most beautiful and renowned natural wonders turns near-magical during the winter months. Visitors got quite the view at the end of 2017, when they saw the famous falls turn frosty. While the water itself didn't freeze in place, it did fall down with an icy cover—sort of like a slushy drink. The result? A truly once-in-a-lifetime experience.
Abraham Lake
Up in Alberta, Canada, Abraham Lake offers a welcome (and beautiful!) summertime getaway. But it gains a different kind of fame during the winter months, when the water freezes over with intriguing bubble formations just below the ice. What's at the cause of the phenomenon? Decaying plants below the surface! As they release methane, the gas is trapped below the surface and turns into beautiful bubbles (which people travel far and wide to see!).
It may not be summertime just yet—but before the ice thaws, check out these spectacular frosty vistas and see your favorite bodies of water in an all-new light!