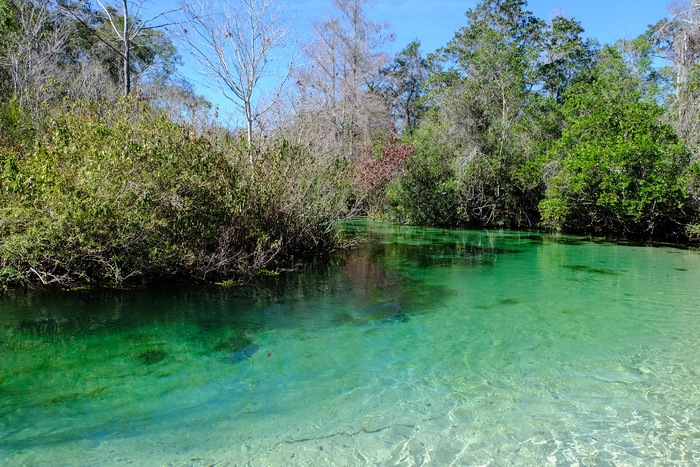 Where else can you find warm weather, blue skies, and clear-water springs frequented by famous local mermaids?
In Weeki Wachee, Florida, it's just another winter day.
Located near Florida's West Coast, Weeki Wachee Springs offers a one-of-a-kind getaway for those looking to soak up some sun and water fun, even in the midst of winter.
Read on to learn more about this unique spot!
A spring steeped in tradition
2017 marked a big anniversary for Weeki Wachee Springs—the big six-o! Since 1947, the deep springs whose name means "winding river" in Seminole has seamlessly blended natural beauty with innovative entertainment, delivered via the famous underwater performers: the mermaids themselves! Local swimmer and Navy man Newton Perry helped design the breathing apparatuses that would let them swim and perform underwater with ease—it's only fitting that he went by the nickname "Newt," just like the semiaquatic salamander who's known for its ability to breathe underwater!
Since opening day that year, Weeki Wachee has been a center of fun and, for young water lovers, a bit of magic, too. The illusion of real-life, mythical mermaids—especially in a spot where their real-world counterpart, the manatee, is known to frequent—adds to the allure and "Old Florida" novelty of this tucked-away treasure.
Meet the mermaids
So, who are those mythical mermaids, anyway? The roster is constantly changing—and in fact, every month, the "Legendary Sirens" from the park's earliest days come back and perform!
The regular lineup of mermaids performs both the classic fairytale, The Little Mermaid, as well as "Fish Tails," a musical and informational show about the mermaids' history. (Incidentally, if you ever wanted to be a mermaid, now's your chance! This January, the park is auditioning swimmers for the job.)
Spring fun…
Of course, there's more than mermaids to see at Weeki Wachee Springs! As the park's name would suggest, the springs themselves are worth checking out. A thing of beauty, they are clear and interestingly deep—it's said, in fact, that the bottom has never been reached! You can take a trip through the springs themselves via river boat cruise or personal watercraft like a canoe or kayak. For the kids, the slides and attractions at the park's Buccaneer Bay offer an exciting way to let out some energy after a day of fun on the water.
Wherever you go in the springs, surrounded by the lush green flora and the sound of wildlife throughout, you're in for a back-to-nature treat you're sure to remember.
… and beyond
Want to get behind the wheel of a boat yourself? Fortunately, Weeki Wachee isn't landlocked—it actually flows into the Gulf of Mexico, another top destination to visit while you're in the area. Due west, you'll find access to the Gulf Coast where you can enjoy inshore and offshore fishing—or simply meander up the coast! Nearby Pine Island Beach Park is an excellent place to unwind or catch some rays, while venturing a bit south will bring you to Tampa and St. Petersburg—two great spots with character on and off the water. Don't forget to indulge in some seafood classics while you're in the area—it is the Gulf, after all! –or catch and create some of your own.
Between the palm trees and the theme parks, there's a lot to Florida that we tend to miss while skimming through the travel brochures! We hope that today's blog helps you discover a new place for the family this winter vacation.