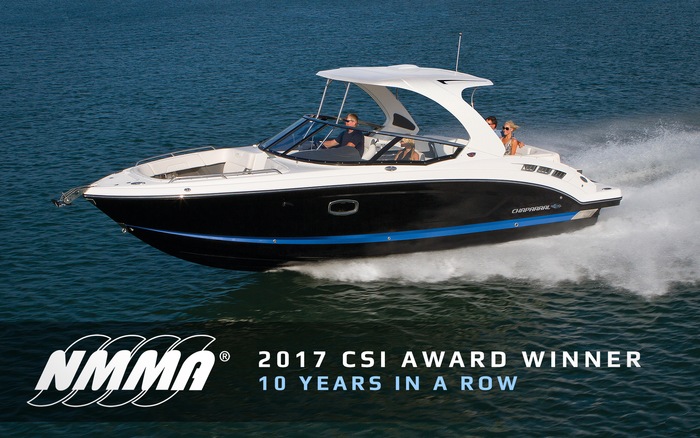 Miami, Florida - For the 10th Consecutive year, Chaparral Boats was awarded the NMMA CSI Award for customer satisfaction. Chaparral received the award in every product line of boats including: bowriders, deck boats, cuddy and express cruisers, jet boats, and fiberglass outboards.
The awards were presented at the Miami Boat Show Industry Breakfast earlier today. On hand to receive the award was Buck Pegg, Executive Vice President and Founder, and the executive management team of Senior Vice President's Ann Baldree and Bill Pegg.
"Winning this award is a direct result of our continued effort to build premium quality boats and our quest to develop innovative product" said Founder Buck Pegg. "This award is without a doubt one of the highest we can receive as it is an award that is given to us not just by the NMMA, but more importantly awarded us by our customers, many of them are 3, 4, even 5 time Chaparral owner's."
"Chaparral Boats are handcrafted by skilled master craftsman in Nashville, Georgia. Many of them are second and third generation boat builders and take pride in everything they do. Our vendor partners are as dedicated to customer satisfaction as we are."
"Our dealer network is the finest in the world. Each and every one of them works hard to ensure our shared customer has the absolute best experience before, during, and after the purchase. Their dedication to customers has helped keep Chaparral at the forefront of the industry for five decades and counting."
The Marine Industry CSI Awards program honors participating manufacturers that actively measure customer satisfaction and pursue continuous improvement to better serve the customer. Award recipients must achieve and maintain an independently ­measured customer satisfaction standard of excellence of at least 90 percent or higher. Customer satisfaction results are measured over the past year and are based on information provided by customers purchasing a new boat or engine during the period between January 1st – December 31st, 2016. Participating manufacturers must survey all new boat buyers during this period.