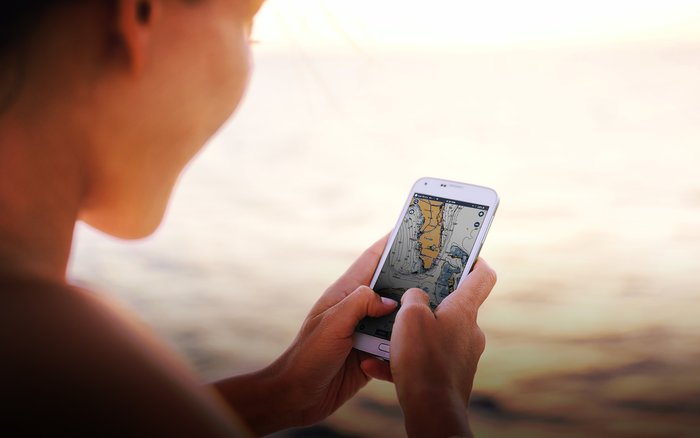 Explore new, far-off destinations with our top boating app picks! Download them with your smartphone or tablet for help planning all aspects of your navigation when out on the water.
Navionics
If you're looking for a great GPS app, look no further! Navionics is the most downloaded navigation app by fellow boaters. It is available for free download for Android and iPhone users alike. With in-app purchase features like daily chart updates, advanced map options, navigation modules, and weather and tides charts, Navionics ensures you'll never get lost or have any unexpected surprises when out on the water. Learn more about Navionics here: http://www.navionics.com/
MyRadar
Whether you're checking to see if it's the perfect day for going out on the boat or you're checking to see if your path while already out is safe, MyRadar is known as the world's most popular weather radar app with over 17 million downloads. Available free for Android, iPhone, and Windows smartphone users, MyRadar provides hi-definition radar forecasts in easy to view maps of your area. Other features include weather alerts, temperatures across the US, hurricane tracking, aviation features, as well as real time photo sharing of the weather in your area. Learn more about MyRadar here: http://myradar.acmeaom.com/
Dockwa
Want to take the boat out for a weekend getaway without the hassle of planning? The Dockwa app makes booking your destination easier than ever. Dockwa is available on the Google Play and iTunes App Store for free. Search all the marinas, yacht clubs and boatyards in the country and book a slip or mooring for whatever location you choose right through the app. Explore places like the Florida North Atlantic, Bahamas, North Carolina, and Lake Erie – the possibilities are endless. "What will we do this weekend" will turn into "Where are we heading this weekend" with Dockwa. Learn more about Dockwa here: https://dockwa.com/
Boatrax
Keeping track of all the technical aspects when boating can be difficult. Boatrax is designed to help you maintain your boat, expenses, and crew all in one app. Share photos of boating life or share your logs to OnDeck, Boatrax's social wall to stay in touch with your crew or other boat managers. Perfect for businesses or just to make your personal boat life easier, you can track and manage detailed logs of all your boat trips, maintenance services and transactions. Boatrax is available only to iPhone users as a free download on the iTunes app store. Learn more about Boatrax here: https://boatrax.com/
Sea Tow
If you ever find yourself in an unfortunate situation when out on the water, having the Sea Tow app on your phone will help to ease your worry. Available to Android users for free, Sea Tow offers on-water assistance as well as access tides, weather forecasts, radar, GPS and many more features. Sea Tow believes boating should be about the adventure, not about research. Become a member to gain access to the most experience Captains who will be there to help when you need it the most. Learn more about Sea Tow here: https://www.seatow.com/
Whether you're a casual boater or you make a living on your boat, these apps will help you and your crew to stay safe, focused, and give you the most useful tool when out on a new adventure, peace of mind.