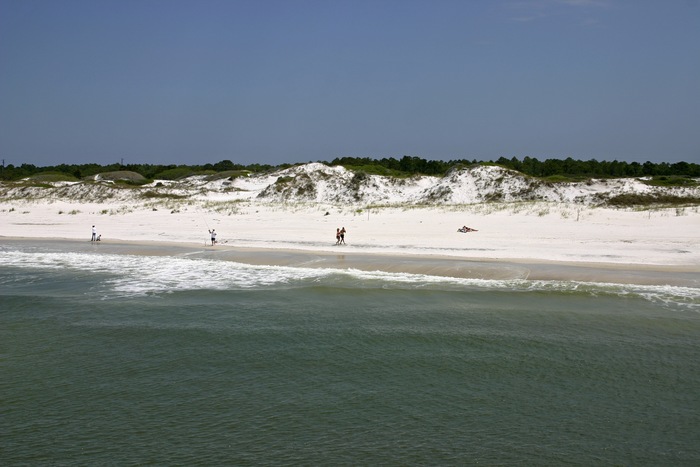 Amongst college students and fun-loving travelers, Panama City, Florida stands supreme as one of the best spring break destinations around. But look a little closer and you'll see--there's more than parties on the shore to enjoy!
Just beyond the city itself--perched on the horizon of the Gulf of Mexico--sits Shell Island, a barrier island whose natural landscape contrasts with the bustling comings and goings on shore.
Shell Island's unspoilt shores make it a treasured rarity--and in today's blog, we're talking about how best to explore it this spring! Take a look.
Getting there (it's half the fun)
One of the simplest ways to get to Shell Island from the panhandle mainland is by Shell Island Shuttle--but you're a boater! You live for getting yourself there by water, whenever and wherever possible. Taking your Chaparral from St. Andrew's State Park, part of the mainland, will give you unparalleled access to the wonders of the surrounding water. You can head right to Shell Island, or meander around the expansive Gulf Coast or St. Andrews Bay--just be sure to pack your snorkel gear and keep your eyes open for the playful dolphins who are known to call the area "home."
Bringing your boat to experience the wide-open waters is doubly useful--not only does it let you see your surroundings from a first-hand point of view, but it will also give you a chance to stow clothes, snacks, and extra drinks (all of which cannot be found on the ultra-remote Shell Island).
Wildlife to watch for
Like we said, dolphins are known to splash around the area and--unwittingly--put on a show for visitors. Other wildlife worth keeping an eye out for include loggerheads and green sea turtles, deer from the island's scrub pines, friendly-faced piping plovers and even marsh rabbits who are known to swim around the Shell Island lake! You may have come to Florida looking for tropical birds and dolphins alone--but the abundance of unique wildlife here is sure to make any traveler do a double take.
An untouched shore
Like we mentioned earlier, Shell Island is great for viewing wildlife, collecting shells and sand dollars, and simply getting away from it all. Its impressive seven miles of shoreline stop where the sometimes shockingly blue water (on either side of the island) begins, and the inland patch of the island is covered not with beachfront hotels or condominiums, but vegetation and the easy-to-miss homes of native coastal critters.
If you've been looking for a way to balance out social excursions with quieter, down-to-earth adventures, Shell Island might just be the ticket. As you travel in and around Panama City, don't forget to visit Chaparral dealer Sunrise Marine in Mary Esther--a drive (or cruise) west--for a closer look at what we've been up to!