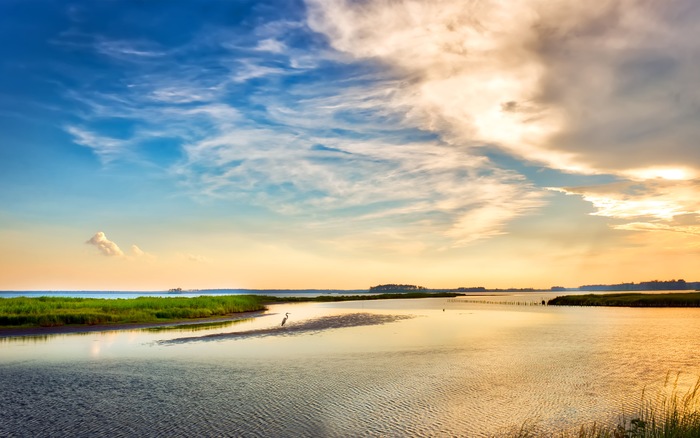 From island escapes to expansive marshlands and wide-open waters for the ultimate ride, the Chesapeake Bay is a boater's dream destination—but don't take our word for it! See it for yourself this summer.
Hop on board and read on as we take a virtual tour of this on-the-water wonderland.
Go island hopping
The Chesapeake Bay offers one-of-a-kind island charm by way of small boating and fishing towns throughout. If you're looking to indulge in some quality "island time," there are a few great spots to explore…
Kent Island. Just east of Annapolis sits an island that's shrouded in history—and back-to-nature fun. Kent Island was the original home of one of the country's oldest English settlements, Kent Fort, which was preceded only by Jamestown, Hampton and Plymouth. Today, visitors enjoy exploring the island's history alongside its beautiful beaches, perfect for soaking up some sun after a long day on the water. You can also head west from Kent Island to Annapolis and nearby Edgewater. The former is a historic hotspot, known especially for its Naval Academy, Museum and sailing roots—the latter is home to Waterfront Marine, your local Chaparral connection. Stop by and say "hi," learn about the latest models and, of course, the wide-open world of Chesapeake Bay to explore.
Tangier Island. The marshy island of Tangier sits atop a bright blue horizon, a top spot for boaters who are passing through the bay. It's a great place to begin any boating adventure, but much of the allure is on land—in fact, spend some time fueling up or kicking back on Tangier and you might hear the unique local accent! Shaped by the island's colonial roots, the Tangier Island dialect has touches of classic British English, carried over across the pond hundreds of years ago.
Smith Island. Another island noted for its British beginnings (and resultant dialect), Smith Island is home to a true Maryland treat—the state's official dessert, Smith Island Cake! After you've kicked back with a slice of this decadent chocolate-and-vanilla layer cake dessert, you'll want to explore its salty marshes—viewed best from the bay or up-close, in a kayak, they form one of Chesapeake Bay's characteristic, low-lying landscapes.
Thrill-seeker fun
In addition to laidback island fun, there are plenty of opportunities for thrill-seekers across the bay. Water sport lovers will enjoy exploring the smooth, protected areas that run throughout the bay's nooks and crannies where great wakes can be made—on the southern side, in Virginia, spots such as Cape Charles are known for their fun-loving atmosphere and activities such as jet-skiing and other water sports.
Beyond the bay
The rivers and creeks that feed into the Chesapeake Bay are worthwhile journeys in their own right! For a touch of history and on-the-water fun, the Potomac is a great spot to visit. From here you can get close to the historical splendor of Washington, D.C., as well as the casual waterfront fun to be had at Old Town Alexandria.
A classic Chesapeake catch
Looking to mix some fishing into your Chesapeake Bay adventure? You're in luck—the bay is famous for its fish and, of course, the classic blue crab (or what the locals like to call the Chesapeake blue crab). At this time of year, try for catches such as rockfish, bluefish and summer flounder, to name just a few. Because of the wide variety of landscapes (from open-water expanses to charming marshlands closer to shore), you'll never get tired of boating or fishing here.
For the perfect day on the Bay…
Looking for some leisurely cruising? That abounds on the bay, where charming waterfront cafes and small-town skylines alternate with untouched natural views for a truly invigorating experience. You never have to leave the water to have a good time—and when the day is almost done, be sure to find a cozy spot by shore to kick back, relax and watch the sunset over the bay!
A genuine gem of the Atlantic Coast, the Chesapeake Bay has something for every sort of boater—so whether you love laidback cruising or fast-paced fun (or maybe a bit of both) this spot has you covered! Hop on your Chaparral and discover it soon.