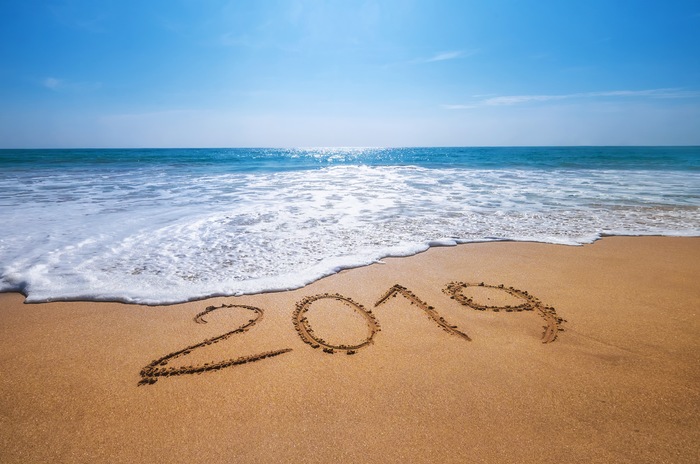 Three… two… one… happy New Year!
Alright, we still have some time before the clock officially strikes twelve on January 1st, 2019. Until then, you might be scrambling to find the perfect New Year's Eve plans—or a resolution you can be serious about sticking to.
Fortunately, we've got you covered in both areas—and, naturally, many of our favorite New Year's plans revolve around the water! Just read on for Chaparral's how-to guide on ringing in the New Year right.
How to ring in the New Year…
Have a dinner party with friends
One of the most quintessential ways to ring in the New Year? Enjoy some delicious eats alongside the people you love most—what could be better? Okay, there might be one thing better. Bringing it by the water.
Head over to your local marina or waterfront café and enjoy a pre-fireworks dinner with friends. It's a fun excuse for a "fancy" occasion by the water, and gives you the chance to enjoy the serene, rolling waves before the excitement really kicks in.
Of course, if you're wondering what to put on the menu, you can't go wrong with traditionally lucky dishes: greens for good luck in the financial department, noodles for a long life, even herring whose shiny scales are said to be similar to coins and, thus, are another source of financial fortune.
Reflect on last year's adventures
New Year's Eve is as much about reflection as it is about looking ahead. This year, take some time to look back on the cherished adventures from throughout the year—the family cruises, one-of-a-kind getaways and day trips that turned into weekends you'll never forget. Make a photo slideshow or leaf through an old-fashioned photo album. Either way, it's a surefire way to remember what it is you love most about life on the water.
Enjoy fireworks on the water
Of course, we can't forget about the classic fireworks! Virtually every city with a popular waterfront scene will feature fireworks there, warm or cold, so be sure to check out one near you! There's nothing quite like seeing the lights sparkle over the water, where they are reflected in cool, shiny brilliance.
Make it a global affair
Every country has its own New Year's traditions. Why not try one or two for a taste of "traveling" the globe without ever leaving home? Don polka dots for good luck like they do in the Philippines, where circles represent good fortune, or enjoy 12 grapes just as the clock turns to midnight, just as they do in Spain.
Plan next year's itinerary
Want to continue the fun of 2018—or maybe make it even better? Use New Year's Eve as a time to plan (or at least sketch out) next year's itinerary.
Go stargazing
Did you know that the sky's brightest star, Sirius, will be at its highest point at New Year's? Go stargazing from the water and get lost in the starry scene—one that's sure to inspire you and help clear your mind for the year ahead.
Get dressed up for no reason at all
Who says you need a reason to get dressed up on New Year's Eve? Even if you're not doing anything particularly black-tie, use the occasion as an excuse to don your favorite outfit—a welcome change for those of us who are more accustomed to flip-flops, board shorts and beach tees!
Host a New Year's Eve scavenger hunt
For something a little more hands-on than a traditional party, try hosting a New Year's Eve scavenger hunt! Get a group of friends together to search for items along your favorite shoreline spot. Whatever they are, the added pressure of finding them all by midnight—and the New Year—is sure to lend an air of excitement to the hunt.
Watch the sun set on 2018…
For a ready-made dinner date idea, enjoy one last sunset to bid 2018 adieu!
…and catch the first sunrise of 2019
Of course, if you're an early riser, you might prefer catching the first sunrise of 2019 instead—especially if staying up to midnight just isn't your thing. It's a great way to start the year off on a hopeful note. Whether you're on the water or bundled up at your favorite beach spot, we think this is a must-do idea everyone ought to try at least once.
Our favorite New Year's resolutions…
Spend more meaningful time on the water
We all want to spend more time on the water—but the "meaningful" caveat here suggests that you do it in even more thoughtful ways! Whether that means bringing along a family member who has never been boating before, or using your time on the water as a way to find peace or some much-needed creative juices, recognizing that a boat trip is more than just "a boat trip" can profoundly impact your life on and off the water.
Become a social butterfly
We can't think of a sport more social than boating! The comfy, spacious surface of your Chaparral is basically built for entertaining, so in 2019, strive to be even more social on board. Invite old friends and make new ones, too, at marinas and all the unique spots you'll visit along the way. Host dinners, birthdays, impromptu raft-up gatherings that come together spontaneously (the way so many of the best plans do).
Amp up the adventure
If you've always wondered about water sports, but weren't sure if they were "for you," why not give them a try in 2019? Hop on a wakeboard or pair of water skis to see just how far adventure and a little courage can take you.
Beat your bad habits
Bad habits—we've all got them. Whether it's taking corners too fast, forgetting gear back on land or not keeping our boats as clean as they ought to be, working to change these habits for the better is a recipe for success in 2019.
Do good
You can use your love for the water to do good, too! Bring out passengers who might otherwise not have the chance to see the water. Cruise to local islands and help pick up trash on the shoreline. Whatever you do, you'll feel good about helping make your water-loving community just a little bit better in the process.
Work it out
We've all made resolutions to go to the gym more—but we think a resolution to work out on the water is even more likely to stick! Getting in your exercise by running on the beach, swimming at your local reservoir and, of course, spending some time fighting for a catch on board is a great way to stay fit without it ever feeling like a chore on your to-do list.
Learn about even better boat care
This year, take some time to learn about better boat care—maintenance, de-winterizing, and simple tips and tricks to keep your boat looking brand-new every time you hit the water. You'll thank yourself later!
Rediscover "old" stomping grounds
Think you know your go-to boating spot? Think again. You don't need to travel far to enjoy an all-new boating experience; simply spend some quality time rediscovering your tried-and-true favorites! By traveling with the lens of a visitor, and not a local, you might just discover some of the charm, culture and aquatic character you've been searching for all along.
Make a new boating playlist
Stuck in the same cycle of music on the water? We all have our favorite songs. In 2019, strive to create a new boating playlist so that new songs serve as the soundtrack for tomorrow's adventures! In no time at all, those memories-to-be will be associated with music you'll love years down the line.
Look ahead
The start of 2019 is a fantastic time to look ahead—not just at your next trip or boat show outing, but the future of your time on the water. Do you want a new boat to fit the whole family? A sport-minded vessel or additional gear for tackling water sport dreams? Or is a new waterfront home somewhere on the horizon? Whatever your plans may be, big or small, this is a prime time to set goals and strive toward achieving them in the months ahead.
How do you plan to ring in the New Year? Be sure to let us know below! And from our family to yours, we hope that 2019 is your greatest year yet—both on, and off, the water.