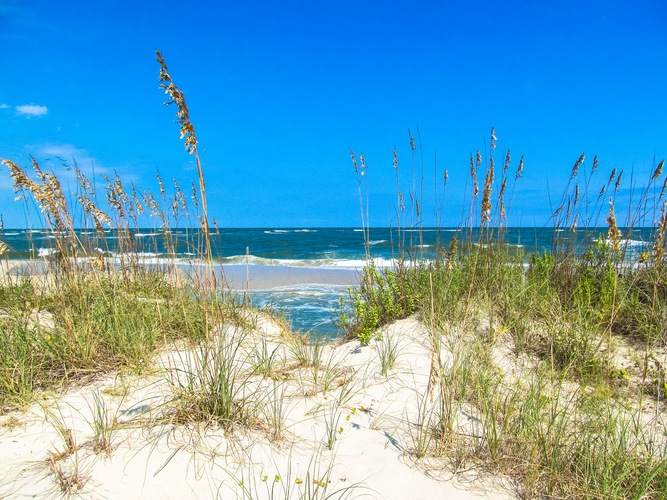 Searching for the perfect place to warm up, thaw out and enjoy your first great getaway of spring? Put Myrtle Beach on your list!
This South Carolina gem boasts a gorgeous backdrop for cruisers—as well as plenty of action on the water, from island exploration to fast-paced runs and everything in between. Plus, we just can't get enough of that Southern hospitality (or cuisine, for that matter…).
Read on as we share a few of our favorite ways to discover the magic that is Myrtle Beach on your next trip!
Cruise with a classic backdrop…
For a day of offshore fishing or simply an easygoing cruise, you can't beat the classic backdrop of Myrtle Beach's oceanfront. Characterized by colorful condos and, of course, the iconic SkyWheel, the shoreline gives a hint of what you can expect during your time in Myrtle Beach—most importantly, a fun and easygoing vibe that wafts in on the sea breeze.
… or explore a quieter side of Myrtle Beach
While cruising along the Myrtle Beach skyline offers a delightful look at the fun that awaits you on shore, it's not the only vista to enjoy on your adventure! Myrtle Beach (and its surrounding South Carolina digs) is actually home to a wide variety of landscapes, including quiet dunes and even island escapes. Check out Pawleys Island for a breezy escape. Here, you can enjoy a leisurely cruise, comb the sand for beautiful shells, or simply soak in the laidback atmosphere with a delicious brunch or beach picnic. Though it may be miles and miles from the Caribbean, there is definitely a sense of "island time" to be enjoyed on Pawleys—so kick back, relax and have some fun!
Dig into a Low Country boil
Of course, one of the most beloved pastimes in Myrtle Beach is cooking—specifically, Low Country cooking. The unique coastal landscape here has provided a wealth of fresh seafood for generations to enjoy, and there's nothing like a classic boil, featuring corn, potatoes, and, of course, flavorful shrimp (the star of the show) to satisfy your appetite and help you relish the coastal culture. Pair it with some great company for a dinner you're sure to remember.
Stroll along the Grand Strand
There's a reason why they call Myrtle Beach and its surrounding shoreline the "Grand Strand." Locals and visitors alike love the view, the friendly people and the sense of laidback, down-to-Earth fun that pervades here on the sand—so take a walk on the beach or stroll along the pier, and discover what's truly so "grand" about this quintessential Southern shoreline.
Dance the Carolina Shag
Of course, when you're in town, you have to slip into your dancing shoes and try out the Carolina Shag. The classic dance pairs perfectly with the upbeat, breezy beats of Carolina beach music—which, though it may be a truly local creation, actually inspired some of the most familiar tunes of the fifties and sixties! So turn on the radio as you kick back at the beach, create a cruising playlist or find a local venue to dance the night away.
South Carolina cruising offers a wide variety of landscapes to discover—but no matter how you enjoy Myrtle Beach's sunny Southern splendor, you're sure to enjoy the ride!